Rose Bowl, Pasadena, California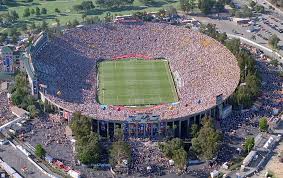 The Rose Bowl, also known as Spieker Field at the Rose Bowl, is an outdoor stadium based in Pasadena California and best known for American Football. But over the years – and particularly more recently, it has become a venue for big Soccer matches – and hence an iconic one.
Opened in October 1922, the stadium is recognised as a National History Landmark. It has an all-seated capacity of 92,542. The Rose Bowl is the 15th largest stadium in the world, the 11th largest in the US, and the 10th largest NCAA stadium.
Originally built as a horseshoe, the stadium was expanded several times. The southern stands were completed in 1928, enclosing the stadium into a complete bowl.
These days the regular home of the UCLA Bruins university American Football team since 1982, the stadium has hosted five Super Bowl games as well as the annual Rose Bowl final.
Its soccer credentials are impressive and has hosted the world's biggest finals. The stadium hosted the 1994 World Cup final (an event watched by more than 700 million people worldwide who saw Brazil beat Italy on penalties), the 1999 Women's World Cup Final (in front of a capacity 92,000 who saw the US beat China on penalties) and the 1984 Olympic Gold Medal match.
It is the only stadium in the world to have hosted all three of these finals.
A regular host of the US men's national team, the Rose Bowl has hosted multiple Gold Cup games and finals since the tournament's inception in 1991 as well as being a venue for the Copa America Centenario in 2016.
For the 2019 Gold Cup it is hosting the opening matches between Canada and Cuba and Mexico and Martinique.
It is a candidate to host matches for the 2022 World Cup and will be a venue for the 2028 Summer Olympics.
At the Gold Cup opening matches in 2013 the venue set a world record for the most number of Mariachi bands playing together (on the pitch) the same song (almost).
The Mexicans and Mexican Americans will be out in force again June 15. The expectations will be just as high, the fan zone will buzzing and the Mexicans will be hoping for a more harmonious performance than in 2013 when they opened with high expectations but finished the day with a loss to Panama.