Winner – USA
Runner-up – Panama
12 team finals tournament
The 2013 Gold Cup provided proof that the game was continuing to develop in the CONCACAF region as more nations entered the tournament than ever before and the rest of the region was starting to catch up with regional heavyweights Mexico and the USA after three successive finals between the two.
12 teams would again qualify for the tournament in the USA with the same number of teams from each region qualifying, with the three North American nations again qualifying automatically, four from the 2012 Caribbean Championships and five from the 2013 Copa Centroamericana.
Caribbean Qualifying
The 2012 Caribbean Championships started with 28 of the 30 member nations entering the competition, with only Sint Maarten and Turks and Caicos Islands not entering the competition. Antigua and Barbuda as hosts and Jamaica as holders qualified automatically for the finals, with Guadeloupe, Cuba and Grenada as 2010 Semi-finalists making the second-round stage.
This left the remaining 23 teams playing off in groups in the first-round stage, although this then reduced to 20 after Bahamas, Cayman Islands and US Virgin Islands dropped out, leave 20 teams to play off in five groups.
An odd situation occurred when, originally, the qualification from the five groups was supposed to be the group winner and four best second placed teams. However, with the withdrawals that occurred, the CFU decided that Groups 1, 2 and 3 would automatically qualify, while the 2nd placed team with the best record would qualify from either Group 4 or 5.
Group 1 was held in Haiti and saw the hosts qualify for the next stage with very few problems, beating Saint-Martin 7-0, Bermuda 3-1 and Puerto Rico 2-1. The Puerto Ricans had already secured qualification after beating Bermuda with a last minute 2-1 win and a 9-0 thrashing of the hapless Saint-Martin team, who also lost 8-0 to Bermuda.
Group 2 in Saint Lucia was a much closer affair as Guyana, Saint Vincent and the Grenadines and Saint Lucia all finished on six points after winning two games and losing a game to one of the other, with tournament newcomers Curacao finishing bottom with no points. Grenada qualified as group winners owing to the goal difference they had from a 2-1 loss to Saint Vincent and a 3-0 win over Saint Lucia, with the severity of that defeat leaving Saint Lucia in 3rd and putting the Saint Vincentians through.
Group 3 was held by Martinique and it was they and Suriname who qualified for the next round with ease, Martinique winning 16-0 against British Virgin Islands and 5-0 against Monserrat, with Kevin Parsemain helping himself to nine of those goals, while Suriname beat Monserrat 7-1 and British Virgin Islands 4-0. Martinique won the group on goal difference despite Suriname holding them to a 2-2 draw.
Group 4 took place in Barbados and was in the balance all the way to the end as both the hosts and Dominican Republic lead at different points. The Dominican Republic eventually won the group after a dramatic come-from-behind win against Dominica, with Jonathan Fana scoring the winning goal in the 3rd minute of stoppage time and left Barbados on six points and hoping for good fortune from Group 5 for their progression, despite a 2-1 win over Aruba.
Group 5 emanated from Saint Kitts and Nevis and saw multiple time Caribbean Champions Trinidad and Tobago cruise into the next stage with three wins from three games, starting with a 4-1 win over French Guiana, then edging out the hosts 1-0 before a 10-goal thrashing of Anguilla. French Guiana recovered from their poor start to beat Anguilla 4-1 and then put out the hosts with a 3-0 win. This also guaranteed French Guiana the last remaining place in the second round as they had a better goal difference than Barbados.
The second round was a simpler affair in terms of qualification, with three groups of four teams and the top two from each qualifying.
Group 6 in Grenada was a real clash of styles, with each team winning at least one game and some late drama taking place in several of the games. Haiti beat Guyana in their first game 1-0, then lost to French Guiana by the same score, while French Guiana equalised in the last minute to save a 1-1 draw with Grenada, while Grenada then beat Guyana 2-1 to give themselves a qualification chance.
In the final group games, Haiti secured qualification for the finals with a 2-0 win against Grenada, ending the Grenadians chances of qualifying despite French Guiana losing 4-3 to Guyana, as goal difference sent the French territory through.
Group 7 was hosted by Guadeloupe saw Dominican Republic secure qualification for the finals after going undefeated in the group. They beat Guadeloupe 2-0 and drew 1-1 with Martinique before beating Puerto Rico 3-1 to win the group. The second group place came down to a final group game between Guadeloupe and Martinique, with a 3-3 draw sending Martinique through and Guadeloupe out.
Group 8 saw Trinidad and Tobago host the group and subsequently win the group undefeated after drawing 1-1 with Saint Vincent and the Grenadines, then beating Suriname 3-0 and winning the group with a 1-0 win over Cuba. The Cubans had qualified by this point, having won 5-0 against Suriname and drawing 1-1 with the Saint Vincentians and after Suriname had shocked Saint Vincent to gain their only win of the group and eliminate St Vincent from the Championships.
The finals took place under a cloud after questions were raised about whether Antigua and Barbuda could host the tournament due to financial issues, but the tournament ultimately went ahead on the island of Antigua.
Group A saw two of the heavyweights of Caribbean football dominate proceedings and qualify with ease for the Semi-finals and Gold Cup. Haiti and Trinidad and Tobago started with a 1-1 draw against each other in the first group game, then Haiti beat Dominican Republic 1-0 and Antigua and Barbuda 3-1 to top the group on goal difference ahead of Trinidad and Tobago, who beat Antigua and Barbuda 2-1 and Dominican Republic 2-1
Group B saw a surprise as Jamaica, looking for a third title in a row, crashed out with just a solitary point and missed out on their first Gold Cup since 2007. The Gold Cup places and Semi-final spots were taken by Martinique, who topped the group undefeated after a 1-0 win over Cuba, 0-0 draw with Jamaica and 3-1 win over French Guiana, while Cuba finished second after a 2-1 win over French Guiana and a 1-0 win over Jamaica.
This put Cuba through to a Semi-final with Haiti, while Trinidad and Tobago would face Martinique in the other Semi-final. The Trinidadians would come very close to losing after Kevin Parsemain scored on 75 minutes to put Martinique within sight of the final, but Richard Roy saved them with a last-minute equaliser which took the game to extra time, then to penalties. Trinidad and Tobago then went through 5-4 on penalties after Frederic Piquionne missed Martinique's fifth penalty.
They would be joined in the final by Cuba, who took the lead against Haiti when Yoel Colome scored after eight minutes and never relinquished it, holding out the Haitians and winning 1-0 to make the final against Trinidad and Tobago.
Haiti got some consolation by winning the 3rd place playoff with a 1-0 extra time win over Martinique, before Cuba and Trinidad and Tobago clashed in the final in St John's.
The game was a dour, tense battle with few chances that went to extra time with no goals. It only needed one goal to decide the game and Marcel Hernandez wrote himself into Cuban football history when his goal after 113 minutes won Cuba their first Caribbean Cup title with a 1-0 win.
Central American Qualifying
The 2013 Copa Centroamericana was hosted by Costa Rica and it was they who won Group A, beating Belize 1-0 and Nicaragua 2-0 and drawing 1-1 with Guatemala to finish on seven points. The second place in the group was clinched in a major shock as Belize recovered from their 1-0 defeat by Costa Rica to draw 0-0 with Guatemala, then gained one of the most significant and celebrated victories in their history when Deon McCaulay scored in the 90th minute to beat Nicaragua 2-1 and send Belize through to the Semi-finals and the Gold Cup for the very first time.
Group B was a lot closer as all three teams drew both their games to finish on two points. Honduras topped the group on goals scored, having drawn both games against El Salvador and Panama 1-1, while El Salvador and Panama drew 0-0 and had to draw lots to decide who would go through as runners up and who would be eliminated and enter the 5th place playoff for the final Gold Cup space.
El Salvador won and went into a Semi-final with Costa Rica, while Panama were disappointed to be eliminated, but gained some consolation after a 3-1 win against Guatemala secured their Gold Cup spot.
In the Semi-finals, Honduras qualified for the final after a Brayan Beckeles goal on 67 minutes helped them edge past surprise package Belize, while Costa Rica did the same trick against El Salvador, Rodney Wallace's goal enough for a 1-0 win.
El Salvador won the 3rd place playoff against Belize, before Costa Rica and Honduras prepared to compete in the final in San Jose. This game continued the trend set from the Semi-finals and was a closely fought, dour encounter that had few chances and was ultimately decided by Giancarlo Gonzalez's goal on 38 minutes, which secured Costa Rica's seventh title with a 1-0 win.
Finals Tournament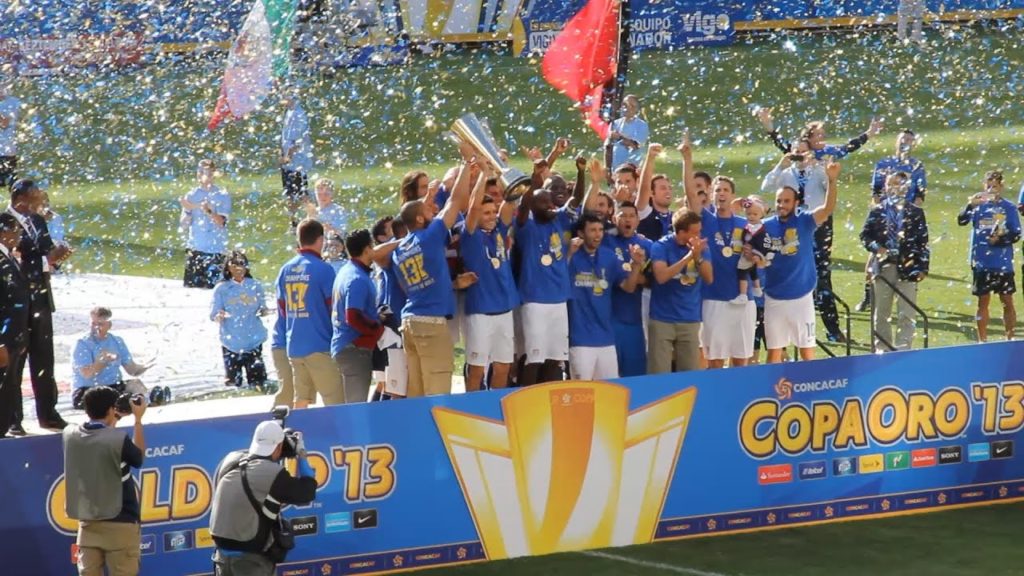 The 2013 Gold Cup saw the same tournament structure as 2011, with three groups of four teams and games coming from 13 venues spread over the four corners of the USA, with Soldier Field in Chicago the venue for the Final.
Group A saw some close games, kicking off in the Pasadena Rose Bowl with a last-minute Martinique 1-0 win over Canada, while a depleted Mexican side fell 2-1 to Panama, who had struggled to qualify, but showed their potential in this 2-1 win, with Gabriel Torres getting both goals.
Panama then secured qualification for the Quarter-finals in Seattle with another Torres penalty five minutes from time that beat Martinique 1-0, while Mexico got their tournament back on track with a 2-0 win that eliminated Canada.
Mexico secured second place and eliminated Martinique in the final group game in Denver with a 3-1 win, finishing behind Panama after they drew 0-0 with Canada to finish on seven points.
Group B was a closely battled affair with all four teams being in contention for a Quarter-final place at the final set of group games.
It started in Harrison with a 2-2 draw between El Salvador and Trinidad and Tobago and a Honduras 2-0 win over Haiti, while Haiti then shocked the Trinidadians with two Jean-Eudes Maurice goals sealing a 2-0 win in Miami Gardens, with Honduras winning in the last minute against El Salvador.
In the final set of groups games in Houston, any one of the teams in the group could still qualify. El Salvador managed to get through as one of the two best ranked 3rd placed teams after beating Haiti 1-0, while Trinidad and Tobago finished second thanks to a 2-0 win over Honduras, who still topped the group.
Group C was more straightforward as the USA and Costa Rica asserted themselves at the top of the group and won through to the Quarter-finals with a game to spare, with Cuba and unlikely qualifiers Belize left scraping for 3rd place.
The USA started their tournament emphatically, beating Belize 6-1 at Jeld-Wen Field in Portland, with Ian Gaynair's goal the only consolation for Belize. This had followed a Costa Rica 3-0 win over Cuba and the Cubans were on the end of another beating at Rio Tinty Stadium in Sandy, losing 4-1 to the USA, with Costa Rica only just edging out the Belizeans 1-0 after Dalton Eiley put through his own net.
The USA ended the group stage with three wins from three games after a late Brek Shea goal secured a 1-0 over Costa Rica in East Hartford, but all the drama was in the other game as Cuba needed to win by four clear goals against Belize to qualify for the Quarter-finals.
With the game nearing the end of stoppage time, Cuba lead 3-0 through an Ariel Martinez hat-trick, but looked to have just fallen short. However, Yenier Molina took advantage of space in the box to slot home the fourth goal and put the jubilant Cubans through at the expense of Martinique.
Sadly for Cuba, that was as good as it got for them in the Gold Cup as after travelling to the Georgia Dome to face Panama in the Quarter-finals, they were thrashed 6-1 by the Panamanians. It was a close game up until Carlos Rodriguez's goal in the 69th minute and that goal opened the floodgates and sent the Cubans home.
In the other Quarter-final in Atlanta, Mexico took on a determined Trinidad and Tobago team looking for their second Semi-final. Compared to the previous game, this was a lot closer and both sides created chances, but none were taken until Raul Jiminez found room to slot home the winning goal six minutes from time for a 1-0 for Mexico.
The next day in Baltimore, over 70,000 people attended the two games at M&T Bank Stadium.
The first game saw the USA assert themselves against El Salvador. Five different players scored for the USA as they send the Salvadorians out of the tournament with a 5-1 win.
The final Quarter-final produced another closely fought battle as Central American heavyweights Costa Rica and Honduras battled for the last Semi-final place against the USA. Honduras got revenge on Costa Rica for the Copa Centroamericana final defeat, with Andy Najar scoring the only goal after 49 minutes to send Honduras through 1-0.
Cowboy Stadium in Arlington played host to the Semi-finals and attracted over 80,000 people to see two dramatic matches play out.
The first Semi-final pitted the hosts against Honduras. Eddie Johnson put the USA ahead after just 11 minutes and their lead doubled when US football legend Landon Donovan scored after 27 minutes. Honduras looked to have found their way back into the game when Nery Medina reduced the arrears on 52 minutes, only for Donovan to add his second and end the game as a contest just three minutes later, with the USA winning 3-1.
The other Semi-final brought a classic encounter as Panama and Mexico battled for the other spot in the final. Blas Perez continued his good scoring form with the opening goal after 11 minutes, but Mexico, even with a depleted squad, showed why they were defending champions when Luis Montes equalised on 26 minutes. This set the scene for a back and forth battle, with chances aplenty for both sides.
It was the Panamanians who found the vital edge, with Ramon Torres putting them through to their second Gold Cup final and ending Mexico's reign as champions after an hour for the goal that secured a 2-1 win.
This took Panama to a final date with the USA in Chicago in a repeat of the 2005 final. Finals are normally tense affairs with few chances, but this game proved to be different as both sides tore into each other from the off, creating chances that Perez and Donovan could and, perhaps, should have scored for each side.
Such a game would need only one goal to open things up and it came after 69 minutes when a Bedoya cross was touched past Jaime Penedo by Landon Donovan and Brek Shea tapped home from inches out to score the winning goal for the USA. He had only been on the pitch a few seconds, but his contribution to the game was massive as the USA won 1-0 to win their fifth Gold Cup.