FirstEnergy Stadium, Cleveland, Ohio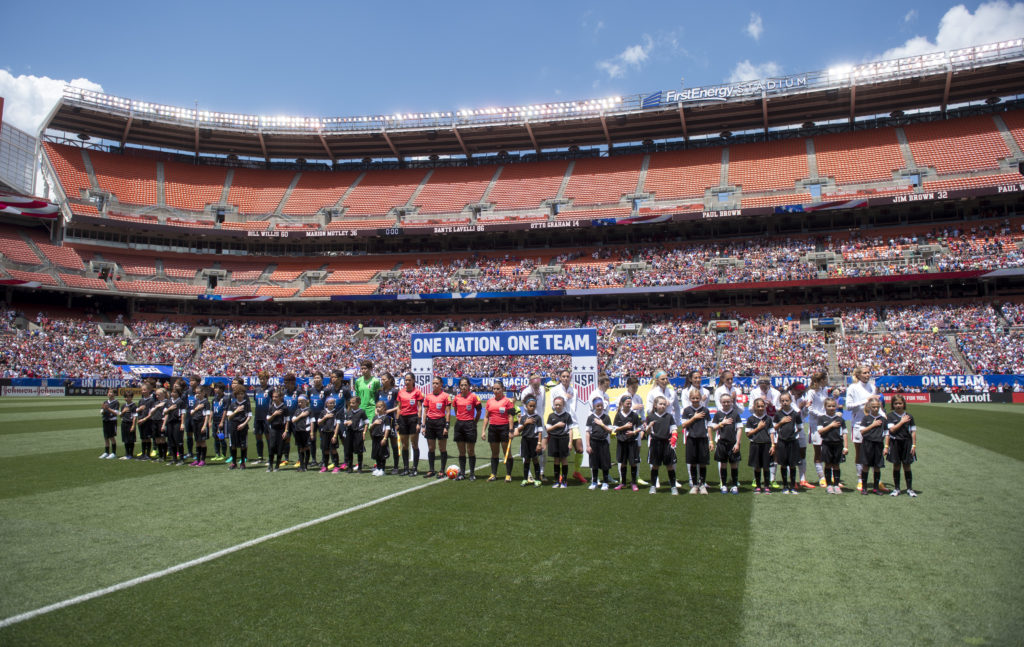 FirstEnergy Stadium is the home of NFL's Cleveland Browns.
Having opened in 1999 as the Cleveland Browns Stadium, it was renovated in two phases in early 2014 and 2015. The initial seating capacity was 73,200, but following the first phase of the renovation project in 2014, seating capacity was reduced to 67,431. Since 2017, capacity has been 67,895.
FirstEnergy Stadium is located on the site of the old Cleveland Stadium, a multipurpose facility built in 1931 that served as the Browns' home field from their inception in 1946 until 1995.
The stadium is a concrete and glass structure. Natural stone accents were used at the base of the stadium. The construction of the concrete superstructure took more than 6,000 truckloads of concrete, or the equivalent of 60,000 cubic yards (46,000 m3), with a weight of approximately 235,000,000 pounds (107,000,000 kg).
FirstEnergy Stadium has hosted US men's and Women's games including a pre 2006 World Cup friendly against Venezuela for the men and a 2013 game against Belgium.
The USWNT has played at the stadium twice, the most recent being a friendly against Germany  in 2010 and the second leg of a friendly series with Japan in 2016. The stadium hosted Gold Cup 2017 matches that saw the US play Nicaragua. The US men's team returned in June 2018 to play a friendly against China.
For the 2019 Gold Cup the stadium will host the US again against Trinidad as well as Guyana vs Panama in the second round of Group D play.
The FirstEnergy Stadium is candidate for hosting 2026 World Cup matches.