Banc of California Stadium, Los Angeles, California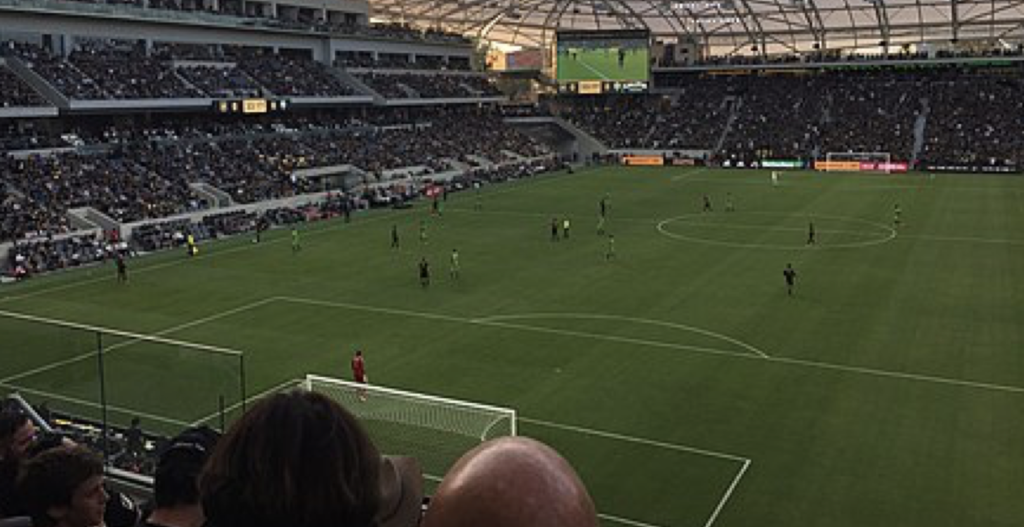 The Banc of California Stadium is a 22,000 capacity soccer-specific stadium in the Exposition Park neighbourhood of Los Angeles. Right next to the Los Angeles Coliseum. Both stadia are operated by the University of Southern California (USC).
Opened on April 18, 2018, it is the home of newly launched MLS side Los Angeles FC.
The stadium was the first open-air stadium built in the City of Los Angeles since 1962 and was built on the site of the former Los Angeles Memorial Sports Arena. It cost $250 million to build.
At a groundbreaking ceremony in August 2016, LAFC announced a 15-year, $100 million naming rights deal with the Banc of California.
The stadium's seating is at 34 degrees, which makes it among the steepest in the MLS. The closest seats are 12 feet from the field and all seats are within 135 feet of the field.
At the North End of the stadium there is a safe standing section. On top of the North End is a supporter-designed bar which can only be accessed from 3252 section – named after the number of 'seats' in the safe-standing area.
A northeast slice of the stadium was designed to be open to capture the downtown Los Angeles skyline and the San Gabriel Mountains.
For the 2028 Olympics the stadium will be a part of the Downtown Sports Park and play host to some Track and Field events and both men's and women's soccer.
The 2019 Gold Cup is coming to the stadium for the first time June 25. Jamaica will play Curacao and Honduras will play El Salvador in the final round of group qualifying.