How they qualified
Martinique qualified with relative ease for the Gold Cup in CONCACAF Nations League qualifying, finished third overall with four wins from four, with their 1-0 win in rival Guadeloupe sending them to their sixth Gold Cup.
Tournament record
They have previously qualified on five occasions, with a group stage appearance in 1993 their first attempt at the Gold Cup. A 9-0 defeat to Mexico was their harsh introduction to the Gold Cup and they failed to qualify for the next three tournaments, but surprised many in 2000 by making the Quarter-finals and only losing on penalties to eventual winners Canada.
Since then, they've gone out in the group stages in 2003, 2013 and 2017, but have always brought colour, skill and a sense of the unexpected to the Gold Cup.
Star men
Kevin Parsemain (pictured) is rapidly becoming a major star after four goals in two tournaments. He has been selected for the squad for this competition and will be the focal point for the Martinique attack. Defender Jordy Delem, who is making waves in Major League Soccer with Seattle Sounders.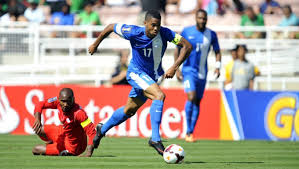 Manager
Head coach Mario Bocaly has been able to assemble a good, strong squad, utilising a mixture of local players and players honing their craft in France and Spain.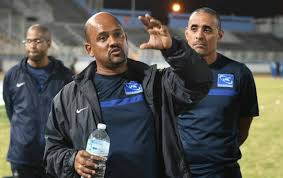 What can we expect?
The overseas French department of Martinique has performed well above expectations in the past in the Caribbean, taking on and beating the regional heavyweights like Jamaica, Haiti and Trinidad and Tobago.
They face Canada in the opening game of the tournament in Pasadena, then possibly their best chance for a tournament win against Cuba in the second game, before rounding things off against Mexico. Progress will be difficult, but not impossible for a developing team with youth and experience, so the result against Canada could be crucial.
Schedule
15 June  – Martinique v Canada
Venue: Rose Bowl, Pasadena
19 June– Cuba v Martinique
Venue: Broncos Mile High Stadium, Denver
23 June – Martinique v Mexico
Venue: Bank of America Stadium, Charlotte
---
SQUAD
GOALKEEPERS
Loïc Chauvet               30-04-1988     CS Case-Pilote
Arnaud Huygues         30-12-1985     Aiglon du Lamentin
Stephane Michalet       16-03-1989     US Robert
DEFENDERS
Jean-Sylvain Babin     14-10-1986     Sporting Gijón
Samuel Camille           02-02-1986     Tenerife
Rodrigue César           14-04-1988     Club Colonial
Sébastien Cretinoir      12-02-1986     Golden Lion
Jordy Delem                18-03-1993     Seattle Sounders
Audrick Linord           17-04-1987     US Robert
Yann Thimon              01-01-1990     Franciscain
Yordan Thimon           10-09-1996     Franciscain
MIDFIELDERS
Stéphane Abaul           23-11-1991     Franciscain
Romario Barthelery     24-06-1994     Golden Lion
Daniel Herelle             17-10-1988     Golden Lion
Wesley Jobello            23-01-1994     Gazélec Ajaccio
Joris Marveaux           15-08-1982     Gazélec Ajaccio
Karl Vitulin                 15-01-1991     AS Samaritaine
STRIKERS
Mickael Biron             26-08-1997     Golden Lion
Kevin Fortune             06-08-1989     Troyes
Christof Jougon          10-07-1995     Franciscain
Johnny Marajo            12-10-1993     Franciscain
Kévin Parsemain         13-02-1988     Golden Lion
Grégory Pastel            18-09-1990     Riviere-Pilote