Winner – USA
Runner-up – Panama
12 team tournament with Colombia and South Africa as guests
The 2005 Gold Cup saw another format change and more stadiums being utilised as Concacaf looked to spread the tournament around for more fans to watch games.
The number of teams stayed the same, with 12 teams competing from the three CONCACAF zones and invitees Colombia and South Africa, but the structure changed to three groups of four teams, a change brought in to help prevent the use of coin tosses to decide groups which had been a part of two of the last three tournaments.
The North American zone countries qualified automatically, with the USA again hosting the competition, with three places for the Caribbean nations from the 2005 Caribbean Cup and the top four nations from the 2005 UNCAF Nations Cup qualifying in Central America.
Caribbean Qualifying
The 2005 Caribbean Cup had a new look as all competing nations started out in six groups, with the top two from each group going on to two rounds of two-legged qualifying games before a final round with four teams in a round-robin group in Barbados.
The first qualifying round saw some mismatches and big scores and a number of withdrawals that played havoc with one group and left one team with a walkover.
Jamaica and Haiti dominated Group A, with both beating US Virgin Islands 11-2 and the Jamaicans meting out a 14-0 and Haiti a 12-0 win over Saint-Martin, with their 2-2 draw a mere footnote in the group.
Group B saw three French territories put 16 goals past Dominica, with the unfortunate Dominicans losing 5-2, 7-4 and 4-0 to Martinique, Guadeloupe and French Guiana respectively. French Guiana won the group with three wins from three games, while Martinique found their way through on goal difference in second place.
Group C was supposed to feature games between the Bahamas, Cuba, Netherlands Antilles, Guyana and Dominican Republic, but all teams except Cuba withdrew from the tournament, leaving Cuba as last team standing and with a walkover into the next round.
Group D was won with relative ease by Trinidad and Tobago, who won all three games and scored 11 goals, with Cornell Glen scoring six along the way. Grenada finished in second place in the group ahead of Suriname, their 7-3 win over Puerto Rico proving enough for them to go through on goal difference.
Group E was a much closer affair, with each team winning a match, and saw a surprise as the British Virgin Islands qualified for the second round after a 2-0 win against Bermuda. They had earlier drawn with group winners Saint Vincent and the Grenadines and narrowly lost to Cayman Islands before their win over Bermuda. There was controversy as Bermuda protested that three of the BVI players were Saint Vincentians, but their protest was rejected.
Finally, Group F saw Saint Kitts and Nevis and Saint Lucia make progress to the next stage after beating Antigua and Barbuda and Montserrat, with Saint Kitts topping the group on goal difference. The Antiguans were unlucky to go out after winning an epic game against Montserrat 5-4.
The second qualifying round saw the qualified teams drawn into six two-legged games, with the winners going on to a final round. With 11 teams in this stage, it meant that French Guiana were the lucky recipients of a bye to the final round.
There weren't any surprises in this round, with Haiti winning 3-0 on aggregate against Saint Kitts and Nevis, Jamaica just held off a determined Saint Lucian comeback to go through, Trinidad and Tobago ended the British Virgin Islands fairy-tale with a 6-0 aggregate win, Saint Vincent and the Grenadines won 4-1 on aggregate against Grenada and Cuba, who were playing their first games of the tournament, won 2-0 home and away against Martinique.
In the third qualifying round, French Guiana's luck ran out as they lost the first leg 5-0 to Jamaica and the Jamaicans made sure of their qualification with a goalless draw in the second leg. Trinidad and Tobago went through, but only after a scare in the second leg against Saint Vincent when a Forge penalty reduced the aggregate score to 3-2, and Cuba secured a 2-1 win over Haiti with a Yenier Marquez goal deep into extra time securing their passage through.
The final round in Barbados saw Jamaica beat Trinidad and Tobago 2-1, while Cuba put three past the Barbadians to top the group.
Cuba and Jamaica then ensured their Gold Cup qualification and set up a winner take all final game with a Cuban 2-1 win against Trinidad and Tobago and an Andy Williams goal proving enough for Jamaica to win 1-0 against Barbados.
The Trinidadians had had a disappointing tournament, but they were able to at least secure their Gold Cup qualification with a 3-2 win against Barbados, leaving the hosts pointless and bottom of the group.
The final game of the tournament was a defensive battle, with Cuba knowing that a draw would be enough for them to win the group due to a better goal difference. This worked well for the Cubans in the first half as it was 0-0 at half-time, but one lapse proved fatal to their chances as Luton Shelton was given space to fire home the only goal of the game for a Jamaican 1-0 win that clinched their third Caribbean Cup.
Central American Qualifying
The 2005 UNCAF Nations Cup took place at the beginning of 2005 in Guatemala and featured all seven UNCAF nations, drawn into two groups, with the top two qualifying for the Semi-finals and, additionally, qualifying for the 2005 Gold Cup.
Group A saw the hosts drawn into a four-team group alongside Belize, Honduras and Nicaragua. It was clear from the beginning who the strongest teams were as Honduras thumped Nicaragua 5-1 and Guatemala cruised to a 2-0 win against Belize.
The Gold Cup qualification from Group A was resolved in the second round of games by two 4-0 wins as Honduras beat Belize and Guatemala beat Nicaragua. The Nicaraguans got a consolation 1-0 win against Belize in the final set of group games, while Honduras topped the group with a 1-1 draw against Guatemala
Group B saw Costa Rica, Panama and El Salvador battle for the two places in the Semi-finals.
With so little room for error, El Salvador and Panama played out a cautious opening game, with few chances available. One chance was enough for Juan Ramos Solis and his goal on 77 minutes saw Panama win 1-0 and give them an excellent chance for qualification.
El Salvador had to beat Costa Rica to have any chance of going through and Dennis Alas put the Salvadorians ahead on 40 minutes, giving them increased hope. However, Costa Rica were too good a side not a find a way through and after Whayne Wilson equalised in the 78th minute, Roy Myrie broke Salvadorian hearts and secured Costa Rica's qualification with a goal two minutes into injury time.
Costa Rica then secured top spot with a 1-0 win against Panama, with Myrie scoring his second goal of the tournament.
The Semi-Finals brought the Hondurans up against Panama, while the hosts would take on a Costa Rican team growing in confidence. The two games were very different encounters, with a Wilmer Valasquez goal enough for Honduras to go through against Panama, while Costa Rica demonstrated why they were the team to beat with a brutal 4-0 demolition of Guatemala.
The Guatemalans ended their tournament with a comfortable 3-0 win over Panama in the 3rd place playoff, before Costa Rica and Honduras took to the field for the final.
It was a back and forth game with plenty of chances for both sides. Milton Nunez opened the scoring after 58 minutes for Honduras, but Whayne Wilson levelled things up 10 minutes later for Costa Rica and although both teams created more chances, there were no more goals over the rest of the 90 minutes or over extra time, so the final went to a Penalty Shootout.
Although Jafet Soto missed the first penalty for Costa Rica, it was the last penalty the Costa Ricans would fail to score. With pressure at a high, Mario Berrios put his penalty wide, then Jose Porras saved from Vallecillo to win the UNCAF Nations Cup for Costa Rica for the fifth time.
Finals Tournament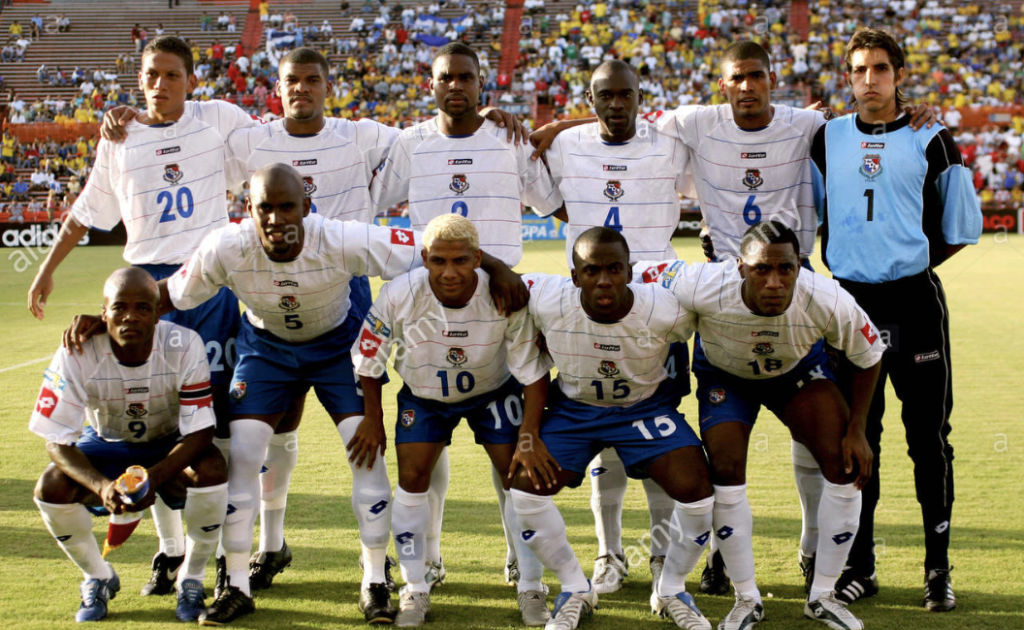 With qualifying concluded, the teams arrived in the USA for the eighth Gold Cup with some nations missing top players, including half of the Mexican and US regular players.
Despite some big names missing, the tournament was becoming bigger than ever, with seven stadiums hosting games and the final being hosted, for the first time, in the north of the United States, as Giants Stadium in East Rutherford would be the final venue.
Group A saw a surprise right at the start as Panama beat Colombia 1-0 and produced some moments of drama and history, with Chris Birchall scoring against Honduras after making history as the first white man to play for Trinidad and Tobago for 25 years, the Trinidadians being denied a win over Panama when Luis Tajeda equalised just seconds after Cornell Glenn had scored what he thought was the winning goal and Colombia managing to save themselves from elimination with a 2-0 win against Trinidad and Tobago that helped send them through as one of the two best-placed third placed teams. Honduras won the group, with Panama second, while Trinidad finished without a win and went home bottom of the group.
Group C saw the USA and Costa Rica dominate proceedings, winning their games against Canada and Cuba, then playing out a goalless draw that left the USA top and Costa Rica in second place. The Cubans lost all three games, but won friends for their determined play and were unlucky to concede late in every game, with their defeat to Canada giving the Canadians something to take home from a disappointing tournament.
Group C produced a surprise when South Africa beat Mexico 2-1 in the opening game, while Brian Ruiz's hat-trick wasn't enough for Costa Ricam, as they went down 4-3 to Jamaica. The Jamaicans were full of goals in the first round, but were also leaking goals in defence, as was proved in their 3-3 draw with South Africa.
Mexico had recovered from their early shock defeat to South Africa by thrashing Guatemala 4-0 and secured top spot in the group with a 1-0 win against Jamaica, who finished 3rd in the group behind South Africa, but went through as the other 3rd placed team with the best record.
The first two Quarter-finals took place at Gillette Stadium in Foxborough and produced two games of high quality and drama.
The first Quarter-final saw a repeat of the 2005 UNCAF Nations Cup final as Honduras and Costa Rica took to the field. The game in Guatemala had been a tight and tense battle, but this game turned into a goal-fest that saw Honduras go 3-0 up after just 30 minutes, but saw them hang on when Christian Bolanos reduced the arrears after 40 minutes and Bryan Ruiz set off a frantic final 10 minutes with another Costa Rican game. The Hondurans managed to hang on for a 3-2 win that not many outside of the Honduran camp would have expected.
The hosts then took on Jamaica in the second Quarter-final and showed that they were becoming a force to be reckoned with as they put on a professional performance that saw Josh Wolfe score the opener after just six minutes, then DeMarcus Beasley made the game safe for the Americans with two well taken goals either side of half-time, with a Ricardo Fuller goal at the end merely a consolation as the USA won 3-1.
The other two Quarter-finals took place at Reliant Stadium in Houston. Whereas the previous day had seen goals galore, the games in Houston were a lot tighter and harder to predict who would win.
The first game saw the multiple time Gold Cup winners Mexico take on invitees Colombia. It was a heavyweight clash and one that saw Colombia take the lead through a Castrillon strike after 58 minutes, then Mexico struck back just seven minutes later through Gonzalo Pineda. It was the sort of contest where one goal for either side would decide it and so it proved when Abel Aguilar fired home with 16 minutes left. Mexico tried, but had no response and Colombia made the Semi-finals with a 2-1 win.
Who would join them in the Semi-finals would take 120 minutes and a penalty shootout as South Africa and Panama traded blows and battled throughout. Jorge Dely Valdes put the Central Americans ahead just after halftime, then Lungisani Ndlela equalised for South Africa.
Both sides had chances, but the game played onto into extra time and beyond with no more goals, going to a penalty shootout. Nerves always play a part in penalty shootouts and so it proved for Ricardo Katza, who missed the third South African penalty. Panama did not miss a penalty and Gabriel Gomez fired Panama into their first Gold Cup Semi-final with his successful penalty.
Honduras's reward for beating the Costa Ricans was a Semi-final at Giants Stadium against the USA. They had a poor record against the Americans and were not favoured to win this game, but they surprised everyone when Mario Guerrero put them ahead after 30 minutes.
This shocked everyone in Giants Stadium and it looked like they might cause a major shock as they repelled wave after wave of attack by the USA and led 1-0 going into the last five minutes.
Sadly, the pressure finally told and John O'Brien finally found the equaliser on 85 minutes and then, with extra time looming, Oguchialu Onyewu broke Honduran hearts with a goal two minutes into stoppage time. It was rough on the Honduras team, but meant the USA were through to another Gold Cup final.
They would then settle down to watch the second Semi-final, which was just as exciting as the first game and produced something of a shock.
Panama shocked the Colombians when they went 2-0 up inside 26 minutes from goals by Ricardo Phillips and Jorge Dely Valdes and withstood the increase of pressure on them after Jairo Patino got one back for Colombia when Phillips added his second and Panama's third goal.
Colombia got one more back on 89 minutes when Patino scored his second, but Panama held on to celebrate a famous win that put them into their first Gold Cup with a 3-2 win.
The Panamanians returned to Giants Stadium three days later to face the USA on a sunny afternoon in New Jersey. In front of an enthusiastic and loud crowd, both teams fashioned chances, but found both Kasey Keller in the American goal and Jaime Penedo in the Costa Rican goal in imperious form, with neither looking like they were going to concede.
The game wore on into extra time with no goals scored. It was a real battle with defenders working hard to keep the ball away from their goals and it was no real surprise that the game went to penalties.
Panama had won on penalties earlier in the tournament, but were to suffer the other side of the penalty contest against the USA as Tejada hit the post, Jorge Dely Valdes hit the crossbar and Alberto Blanco blazed over the bar, which left Brad Davis with the opportunity to win the USA's third Gold Cup.
He did so with a cool finish and was mobbed by his team mates as they celebrated winning the Gold Cup.