Winner – USA
Runner-up – Jamaica
12 team finals tournament
The 2017 Gold Cup would be the last to feature 12 teams as it was decided after the tournament to extend the Gold Cup to feature 16 teams.
For this edition of the competition, the same qualification method as 2015 applied, giving the three North American nations automatic qualification as normal, four Caribbean and four Central American places, plus the winner of a playoff between the fifth-place teams in both zones.
Caribbean Qualification
The 2017 Caribbean Cup formed the qualification tournament once again and saw another change in how teams progressed through the tournament, with a first-round stage, featuring the lowest ranked 21 teams in the region after six nations had withdrawn prior to the draw.
They would join Saint Vincent and the Grenadines, the lowest ranked of the four CONCACAF Fourth Round World Cup qualifying participants, with Haiti, Jamaica and Trinidad and Tobago awaiting in the third round.
Seven groups of three teams were drawn in the first round, with the top two teams qualifying. An unusual system was also put in place to avoid teams drawing and reduce the chances of lots having to be drawn, whereby if a game was drawn at the end of 90 minutes, extra time and, if required, penalties, would be required.
For the first time, groups were not hosted by one country, giving each country the chance to play in front of their own supporters for at least one game.
Group 1 saw Saint Kitts and Nevis win the group after winning 2-0 in Aruba, then beating Antigua and Barbuda 1-0 in Basseterre to qualify for the next phase, with Antigua joining them after a 2-1 win at home against Aruba
Group 2 saw Grenada and US Virgin Islands get wins against Sint Maarten, Grenada by 5-0 and the US Virgin Island 2-1, before Grenada stole a 2-1 victory with a Kimo Sampson goal in stoppage time in Charlotte Amalie in the Virgin Islands.
Group 3 was a much closer affair and saw a big surprise when Cuba finished 3rd and failed to progress. It had looked good from them after a 2-1 win at home against Bermuda, but they lost in French Guiana 3-0 and finished behind Bermuda on goal difference, with French Guiana winning the group.
Group 4 was as close as Group 3, with all three teams winning at home and goal difference deciding the places. Dominican Republic won the group after losing 2-1 in Curacao, but beating Barbados 2-0. This left the Barbadians in 3rd place behind Curacao, who recovered from their defeat in Barbados to beat the Dominican Republic 2-1.
Group 5 saw Guyana and Puerto Rico eliminate Anguilla from the tournament with relative ease, Guyana winning 7-0 at home, while Puerto Rico won 4-0 in Anguilla. Guyana then won 1-0 in Puerto Rico to top the group.
Group 6 saw three teams reduced to two after Saint-Martin withdrew from the competition. Despite this, Suriname and Guadeloupe were still asked to compete as the ranking in the group would determine their draw in the second round.
It was also the first instance of a group game going to extra time and penalties when, after a 0-0 draw in Les Abymes, Guadeloupe won a penalty shootout 3-2 to claim the win. Suriname made up for this and topped the group after winning 3-2 at home.
In Group 7, Martinique and Dominica both beat British Virgin Islands, with Martinique winning 3-0 at home and Dominica winning 7-0 away, and Martinique topped the group after winning 4-1 in Dominica.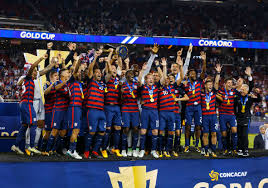 The second round saw the 14 qualifiers join Saint Vincent and the Grenadines and be drawn into five groups of three teams, with the group winners and four best group runners-up qualify for the third round.
In Group 1, Puerto Rico and Grenada went all the way to penalties after an exciting 3-3 draw in St George's, with Puerto Rico getting the three points after winning the shootout 4-3. They then secured their qualification with an extra time 2-1 win at home against Antigua and Barbuda, who then secured their own passage as one of the best runners-up with a 5-1 win over Grenada
In Group 2, Martinique won the group with relative ease, beating Guadeloupe 2-0 at home, before a clinical 4-0 win in Dominica secured their passage through. Guadeloupe won 2-1 at home to Dominica, but they were to be the team that missed out on progress owning to their -1 goal difference.
Group 3 saw the Guyana vs Curacao game scheduled to take place in Guyana, but issues with the venue saw the game played in Willemstad in Curacao instead, with Curacao winning 5-2. The Dutch territory then secured the group with a 7-0 win against US Virgin Islands, with Guyana progress in second place after their own 7-0 win away in the Virgin Islands.
Group 4 saw Dominican Republic make it through with two wins from two games after beating Bermuda 1-0 away and French Guiana 2-1 at home. French Guiana won 3-0 against Bermuda to secure second place, but only after the original game against Bermuda had been abandoned due to a waterlogged pitch with Bermuda 1-0 up.
Finally, in Group 5, Saint Kitts and Nevis kept up their great qualifying form with two wins from two games, beating Suriname 1-0 at home, then winning 1-0 in Saint Vincent. That defeat also sent the Saint Vincentians out of the tournament early after they had shipped two goals in the last five minutes to lost in Suriname, who progressed in 2nd place.
The third round saw the qualified teams join Haiti, Jamaica and Trinidad and Tobago in four groups of three teams, with the group winners qualifying for the Semi-finals of the Caribbean Cup, while the three best runners-up would qualify for a three team group that would decide the qualifier for the playoff against the fifth place team in Central America for the final Gold Cup place.
Group 1 started with the South American neighbours Suriname and Guyana going all the way to extra time in Paramaribo, with Suriname winning 3-2. Guyana then came very close to beating Jamaica at home, leading 2-1 up to the 88th minute when, unfortunately for Guyana, Dicoy Williams equalised to send the game into extra time.
Jamaica then wrapped up a 4-2 win with two late goals, and won the group with a 1-0 win at home against Suriname to qualify for the Semi-finals and book a return to the Gold Cup, while Suriname had done enough to qualify for the Gold Cup fifth place playoff group.
Group 2 saw a surprise as French Guiana topped the group to qualify for the Semi-finals and their first ever Gold Cup when they won 1-0 at home against Saint Kitts and Nevis, then shocked the Haitians with a 5-2 win in Port-au-Prince. Haiti qualified for the Gold Cup fifth place playoff group with a 2-0 extra time win in Saint Kitts and Nevis securing their place on goal difference
Group 3 saw another first-time qualifier for both the Caribbean Cup and the Gold Cup as Curacao won the group at a canter, winning 3-0 at home against Antigua and Barbuda, then coming from 2-0 down against Puerto Rico to win 4-2 after extra time. The Antiguans won 2-0 against Puerto Rico, but they failed to make the Gold Cup fifth place playoff group due to having the worst record as a runner-up.
Group 4 produced another surprise as Martinique sealed qualification for the Caribbean Cup and the Gold Cup when they won with a last-minute goal in Dominican Republic, then beat Trinidad and Tobago 2-0 in extra time to qualify. Trinidad and Tobago had expected more from the group after winning 4-0 at home against Dominican Republic, but instead entered the Gold Cup fifth place playoff group.
The playoff group was hosted by Trinidad and Tobago, but they would lose their first game, going down 2-1 to Suriname after extra time. The Surinamese then fell 4-2 to Haiti, leaving Trinidad and Tobago vs Haiti as the decider. The game went to extra time after a 2-2 draw and the lead changed hands three times in that 30-minute period, with Andrew Jean-Baptiste's goal on 117 minutes sending Haiti through with a 4-3 win.
The final part of the 2017 Caribbean Cup was hosted by Martinique and saw the hosts play Curacao, while Jamaica would face French Guiana in the first Semi-final. French Guiana took the lead in the first half, but were pegged back by a Jermaine Johnson goal after 70 minutes and, with no more goals in normal or extra time, the game went to penalties. Here, the luck told for Jamaica as they only missed their first penalty, while French Guiana missed two, with Cory Burke scoring the winning penalty to put the defending champions through to another Caribbean Cup final.
In that final, they would face a new challenger as Curacao came back from a Yoann Arquin goal on 17 minutes to win 2-1, with Rangelo Janga scoring the winner with 14 minutes left following a Gevaro Nepomuceno penalty equaliser.
French Guiana claimed 3rd place with a Sloan Privat goal giving them a 1-0 win over Martinique, then Jamaica and Curacao took to the field for the final.
Curacao could sense history and they took the lead with an Elson Hooi goal just 10 minutes in, despite claims by Jamaica that several Curacao players were in an offside position.
Jamaica rode the wave and equalised with eight minutes left when Rosario Harriott fired home after
a Binns free kick wasn't cleared. However, they switched off following this goal, and Hooi wrote himself into Curacaoan football history with the winning goal just two minutes later from a Janga cross. Curacao hung on to win 2-1 and win their first ever Caribbean Cup.
Central American Qualification
The 2017 Copa Centroamericana was hosted by Panama and, originally, was due to be the same format of two groups, with a knockout stage and 5th place playoff.
However, the National Football Federation of Guatemala were suspended by FIFA due to political interference by the Government of Guatemala and after the deadline set by CONCACAF for the suspension to be lifted was passed without any change, the decision was made to disqualify Guatemala from the tournament.
Instead, it was decided to have a round-robin competition with five rounds of games, with the top four teams qualifying for the 2017 Gold Cup and the team in 5th place playing off against Haiti for the final Gold Cup place.
Matchday 1 saw Nicaragua take a surprise lead against Honduras, but Honduras showed their tournament pedigree and came back to win 2-1. It was the only game with goals in the first match day as Costa vs El Salvador and Panama vs Belize both finished goalless.
Matchday 2 saw Costa Rica record what turned out to be their only win in the tournament with a 3-0 win over Belize. Honduras made it two wins from two games after Roman Castillo scored his second goal of the game in the 91st minute to beat El Salvador 2-1, while two early goals were enough for Panama to win 2-1 against Nicaragua.
Matchday 3 saw Honduras take a step closer to winning the tournament after winning 1-0 against Panama. El Salvador beat Belize 3-1, while Costa Rica were held to a goalless draw with Nicaragua.
Matchday 4 saw Gold Cup qualifications secured for Honduras and Panama after Honduras drew 1-1 with Costa Rica, while Panama beat El Salvador 1-0 to keep up the pressure on Honduras at the top of the table. Nicaragua gave themselves a chance to qualify automatically for the Gold Cup with a 3-1 against Belize.
Matchday 5 started with Honduras celebrate their fourth Central American championship with a 1-0 win over Belize, a result that meant Nicaragua would at least qualify for the Gold Cup playoff, for which they would qualify for after finishing 5th following a 1-0 defeat to El Salvador, who secured theirs and Costa Rica's qualification for the Gold Cup with that result. Costa Rica finished 4th and Panama 2nd after Panama won 1-0.
The final place in the Gold Cup came down to a playoff between Haiti and Nicaragua, with Haiti seeming to have done enough to qualify after a 3-1 win in Port-au-Prince, although a late Carlos Chavarria gave Nicaragua hope.
The second leg in Managua seemed to be drifting to a dull finish, with the game scoreless after 82 minutes. However, Juan Barrera made himself a hero after first putting Nicaragua ahead with a penalty, then adding two more in the next six minutes to complete a remarkable hat-trick and send Nicaragua through to the Gold Cup 4-3 on aggregate.
Final Tournament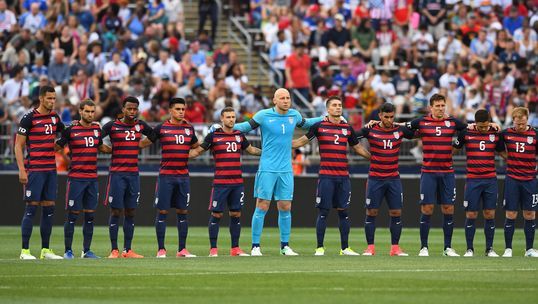 Some new locations were given tournament games for the 2017 Gold Cup, with Levi's Stadium in Santa Clara hosting the final, and games taking place in cities such as Cleveland, Glendale, Nashville, San Antonio and Tampa for the first time.
As with the 2015 tournament, three groups were drawn with four teams, with the top two teams and two best 3rd placed teams qualifying for the Quarter-finals, with group games taking place as double-headers in each group at one of nine venues.
Group A would bring three tournament veterans together with a newcomer, as Canada, Costa Rica and Honduras welcomed French Guiana to the Gold Cup.
French Guiana made their tournament bow against Canada at the Red Bull Arena in Harrison. Canada had disappointed in previous tournaments, but got their 2017 campaign off to a roaring start with a 4-2 win against the Guianans, who threatened a comeback after scoring two goals in two minutes when 3-0 down, but fell short thanks to a late Alphonso Davies goal.
Costa Rica had struggled in the Copa Centroamericana, but showed they had prepared for this competition with a Marco Urena goal enough to beat Central American champions Honduras 1-0.
Honduras then looked to have made their lives even more difficult when they were held to a 0-0 draw against French Guiana in Houston. However, it was later ruled that Florent Malouda, a former French International, did not meet the eligibility rules to play for French Guiana, so the game was instead awarded 3-0 to Honduras. This left them just behind Costa Rica and Canada, who played out an entertaining 1-1 draw, giving all three teams a chance to top the group.
As it was, Costa Rica took top spot in Group A, sending French Guiana home pointless after a 3-0 win in Frisco, while Canada came 2nd and Honduras 3rd after a 0-0 draw, with Honduras making it through as one of the two best 3rd placed teams.
Group B started in Nashville with the hosts USA taking on old tournament foes Panama. A well contested game with plenty of chances saw the USA take the lead through Dominic Dwyer, only for Panama to equalise through Miguel Camargo, with the game finishing 1-1. Martinique won the other game in the group on their Gold Cup return, beating Nicaragua 2-0.
The Raymond James Stadium in Tampa played host to the second group games. The first game was a Central American derby and Nicaragua surprised Panama by going ahead in the 49th minute, only for Ismael Diaz to equalise a minute later and Gabriel Torres to continue his Gold Cup scoring run with the winning goal seven minutes later, securing a 2-1 win for Panama.
The USA then took on Martinique in a match that may have looked like a certain win for the Americans, but turned out to be anything but. The USA had gone 2-0 up with goals in the 56th and 64th minute, only for two Kevin Parsemain goals in eight minutes to bring the scores level. However, as Martinique celebrated levelling the scores, they took their mind off the game and Jordan Morris scored his second goal of the game to win it 3-2 for the USA.
The final group games in Cleveland were a lot less tense and dramatic as both Panama and the USA won 3-0 against Martinique and Nicaragua respectively. The USA topped the group, with Panama second on goal difference, while Martinique finished 3rd, but with the worst record of the three 3rd placed teams.
Group C introduced another tournament newcomer in Caribbean champions Curacao alongside the 2015 finalists Jamaica and Mexico and tournament regulars El Salvador.
Jamaica kicked off their tournament against their Caribbean Cup conquerors Curacao in San Diego. The Curacaoans had taken their chances in beating Jamaica, but were not able to hold off the Jamaican charge this time, losing 2-0 to the 2015 runners-up. Mexico then started their title defence with a routine 3-1 win over El Salvador.
The Salvadorians were able to get their tournament back on track with a 2-0 win over Curacao in Denver, with a rematch of the 2015 final between Jamaica and Mexico failing to live up to the expectation as the game finished 0-0
The final group games in San Antonio saw El Salvador secure qualification as one of the two 3rd placed teams, behind Jamaica, after holding the Caribbeans to a 1-1 draw, while Mexico topped the group after a 2-0 over Curacao.
The first two Quarter-finals took place at Lincoln Financial Field in Philadelphia and started with a neighbourly battle as Costa Rica took on Panama. The game was a stilted and defensive affair and would come down to either a moment of brilliance or a mistake, which came after 77 minutes when Anibal Godoy put through his own net to give Costa Rica a lead they would not lose, sending them into the Semi-finals with a 1-0 win
The other Semi-final was a lot more cut and dried as the USA controlled the game against El Salvador and finished the game as a contest with an Omar Gonzalez goal and an Eric Lichaj finish within four minutes of each other just before Half-time, with the Salvadorians having no answer in the second half and the USA winning 2-0.
The next two Quarter-finals took place at the University of Phoenix stadium in Glendale. The first game saw a commonwealth clash between Jamaica and Canada, with Jamaica taking the lead after just six minutes through Shaun Francis, then extending their lead five minutes after the break through Romario Williams. Canada were able to get one back through Junior Hoilett, but the Jamaicans continued their excellent Gold Cup run by holding on to win 2-1.
They would face their 2015 final opponents in the Semi-finals after Mexico were able to win their Quarter-final against Honduras after an early Rodolfo Pizarro goal proved the difference in a 1-0 win.
The Semi-finals, for the first time since the 2003 Gold Cup, took place on two different days in two different stadiums, with AT&T Stadium in Arlington and the Rose Bowl in Pasadena hosting the Semi-finals.
The first game in Arlington brought Costa Rica up against the hosts. Both sides had excellent early chances, with Jordan Morris hitting the post after just 10 seconds, while Marco Urena saw his shot go wide from close range for Costa Rica.
It was still level going into the last 20 minutes, but Jose Altidore was able to fire home the opener after 72 minutes after being put through by Michael Bradley. Clint Dempsey ended the game as a contest 10 minutes later with a low free-kick that just crept in for a 2-0 win
The next Semi-final took place in Pasadena and was the second time Jamaica and Mexico had played each other in the competition. That game had been a tight and dull contest and so this one proved, with both sides struggling to find a chance to score. It would take something special to win this game and Kemar Lawrence provided that something special with a 30-yard freekick two minutes from the end of the game, stunning Mexico and putting Jamaica through to their second Gold Cup final with a 1-0 win.
The final, played at Levi's Stadium in Santa Clara, drew a crowd of over 62,000 people and gave them a classic encounter with some memorable goals. Both teams had early chances, with Lawrence heading over and Bradley dragging a shot wide, before Jose Altidore added to his tournament tally and put the USA ahead with a spectacular free kick which hit the wall and flew into the top left corner of the net just before half time.
Jamaica were down, but not out, and Je-Vaughn Watson scored with a brilliant close-range volley after being given too much space in the box from a Lawrence corner to equalise after 50 minutes.
The game continued with chances for both teams, with Clint Dempsey desperately unlucky to hit the post with a header, but it was the USA who won the Gold Cup for the sixth time in the 88th minute when a Zardes cross was cleared by Jermaine Taylor, but hit Clint Dempsey, and Jordan Morris swept the loose ball past Andre Blake from the edge of the area. It was a goal fit to win a Cup final and so it proved as the USA won 2-1, with Jamaica losing their second successive Gold Cup final.
With the tournament expanded to 16 teams in 2019, who will be the team to lift the Gold Cup at Soldier Field? Will it be the old brigade or will a new name appear on the trophy?