Winner – Mexico
Runner-up – USA
12 team tournament
The 2011 Gold Cup took place in the wake of Concacaf President Jack Warner's resignation from the role and his removal from all participation in all football following corruption allegations in Caribbean football and within FIFA, with this casting a long shadow over the Gold Cup and Concacaf's 50th Anniversary celebrations.
Despite this, the tournament was scheduled to take place in June 2011, with the USA once again hosting and Mexico and Canada qualifying automatically from the North American zone.
The same qualification structure was set up, with four teams from the 2010 Caribbean Championship and five teams from the Copa Centroamericana (newly renamed from the UNCAF Nations Cup), with three groups of four at the finals.
Caribbean qualifying
The 2010 Caribbean Championship were hosted by Martinique and they qualified automatically alongside defending champions Jamaica, leaving six places for teams to enter qualification for.
The 15 lowest ranked nations were drawn into four groups, with the group winners and best second placed teams qualifying for the second group stage from groups A, B and C.
Group A was hosted by Puerto Rico and it was they who won the group with three wins out of three games, beating Anguilla 3-1, Saint-Martin 2-0 and Cayman Islands 2-0. The Cayman Islands did enough to finish second, but their four points were not enough to ensure further progress.
Group B was hosted by Saint Vincent and the Grenadines. This group was a close one, with the hosts, Saint Kitts and Nevis and Barbados all finishing on five points after a win against Montserrat and draws with each other. Saint Kitts and Nevis topped the group based on head-to-head tiebreakers, having scored more goals in the drawn games than Saint Vincent and the Grenadines and Barbados, with Barbados missing out on goal difference from Saint Vincent.
Group C emanated from Suriname and they were able to qualify behind their South American neighbours Guyana after both teams won their opening two games, with Guyana beating Saint Lucia 1-0 and Netherland Antilles 3-2, while Suriname beat Netherland Antilles and Saint Lucia 2-1, with Guyana winning the group thanks to a 2-0 win over the Surinamese.
In Group D, just three teams took part with one qualifying place at stake, but it was only a contest between two teams and a nightmare for the other as after having arrived late in the Dominican Republic, the British Virgin Islands then lost 17-0 to the hosts and 10-0 to Dominica. The Dominicans won the group with a 1-0 win against the Dominican Republic.
The second round brought the qualified teams together with the top six ranked Caribbean teams in three groups of four, with the top two qualifying.
Group E was played in Grenada and saw the hosts qualify alongside Guadeloupe after both teams won their opening games, Grenada beating Puerto Rico 3-1 and Saint Kitts and Nevis 2-0 and Guadeloupe beating Saint Kitts and Nevis 2-1 and Puerto Rico 3-2. Guadeloupe then beating Grenada 3-0 to top the group.
Group F was hosted by and won by Trinidad and Tobago at a canter, having beaten Saint Vincent and the Grenadines 6-2, Guyana 2-0 and then won the group with a 4-0 battering of Haiti. That heavy defeat ended Haiti's hopes of qualification as Guyana won 2-0 against the Saint Vincentians to finish second on goal difference.
Group G took place in Antigua and Barbuda and, as with other groups, the hosts took advantage to qualify for the finals after finishing level on points with Cuba and a point ahead of Suriname, with their win against Suriname proving decisive. The Cubans topped the group on goal difference after a 4-2 win over Dominica and 3-3 draw with Suriname gave them a cushion at the top.
The finals tournament began in Martinique and saw the hosts end up in the group of death, Group H, against Cuba, Grenada and Trinidad and Tobago. A big name was going to be left disappointed and, surprisingly, it was multiple time Caribbean Champions Trinidad and Tobago who crashed out after losing 2-0 to Cuba and 1-0 to Grenada, meaning that they would miss out on another Gold Cup. Cuba won the group, while Grenada qualified for their second Gold Cup in second place, with the hosts disappointing in fourth.
In Group I, Jamaica dominated throughout and won all three games, beating Antigua and Barbuda 3-1, Guadeloupe 2-0 and Guyana 4-0 to qualify for another Gold Cup. Guadeloupe won the battle for second place and the final Gold Cup spot by winning 1-0 against Antigua and Barbuda, with the Guyanese bottom of the group with just a solitary point.
The Semi-finals saw Guadeloupe make their first Caribbean Championship final after coming from behind to beat Cuba 2-1, while Jamaica were taken all the way by Grenada, only progressing through to the final after a Troy Smith goal six minutes into extra time brought then a 2-1 win.
After Cuba won the 3rd place playoff with an early Roberto Linares goal secured a 1-0 win over Grenada, Jamaica took on Guadeloupe in the final. With a lot at stake, the two teams played out a cagey affair, with Ludovic Godin cancelling out an Omar Cummings goal to level the scores for Guadeloupe. The game continued on with few clear chances and ended 1-1 after normal time and extra time, leaving the destiny of the Caribbean Championships to the fates of a penalty shootout, which Jamaica won after Troy Smith scored the winning penalty following a miss by Jean-Luc Lambourde for a 5-4 win and Jamaica's fifth title.
Central America Qualifying
The 2011 Copa Centroamericana was hosted by Panama and featured all seven UNCAF nations, again drawn into two groups, with the same format as the previous two tournaments whereby the top two would qualify for both the Semi-finals and the Gold Cup and the two 3rd place teams would play off for the final Gold Cup place.
Group A saw the hosts win three games out of three, winning 2-0 in each game against Belize, Nicaragua and El Salvador, with El Salvador having already secured qualification with a 2-0 win against Nicaragua and 5-2 against Belize. Nicaragua secured 3rd place on goal difference after a 1-1 draw with Belize.
Group B saw two teams remain undefeated as Costa Rica and Honduras shared a 1-1 draw after a last-minute Ramon Nunez goal, then both teams beat Guatemala, Costa Rica by 2-0 and Honduras by 3-1, with Jorge Claros's late goal winning them the group on goals scored.
Guatemala were to gain some consolation by beating Nicaragua in the 5th place playoff, coming from behind to win 2-1 and secure a return to the Gold Cup.
In the Semi-finals, Honduras got the better of their bitter rivals El Salvador, winning 2-0 thanks to late goals from Leveron and Chavez, while Panama and Costa Rica went all the way to penalties for the third tournament in a row after a 1-1 draw. Costa Rica were to be the lucky team this time as two Panamanian misses put Costa Rica through to their 8th successive final.
Panama gained some consolation when they beat El Salvador 5-4 on penalties after a goalless draw in the 3rd place playoff, before Costa Rica and Honduras faced off in the final.
Walter Martinez gave the Hondurans the perfect start when he scored after eight minutes and Emil Martinez gave Honduras an extended lead and one they would not lose after 53 minutes. Marco Urena got one back for Costa Rica, but they could not find an equaliser and Honduras celebrated winning their third title with a 2-1 win.
Finals Tournament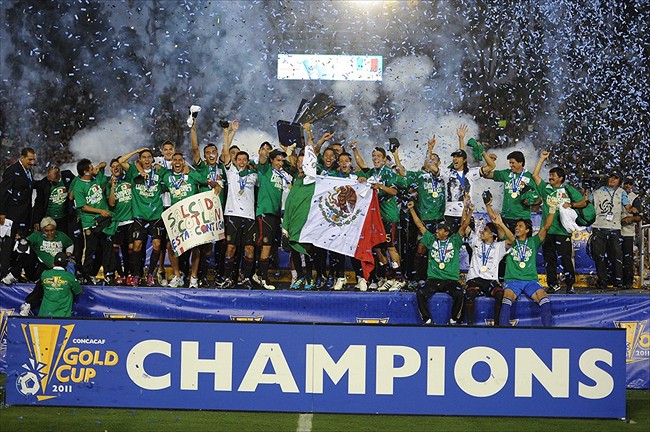 The 2011 Gold Cup followed the same format that had been in place since 2005, with three groups of four and the top two teams and two best 3rd placed teams qualifying for the Quarter-finals.
The Group stages would take place in nine locations across the country, with Quarter-finals in East Rutherford and Washington, the Semi-finals in Houston and the final at the Rose Bowl in Pasadena.
Controversy hit the Mexicans when five of their players were withdrawn from the squad after testing positive for clenbuterol after the game against El Salvador in Group A. Mexico were given permission to replace the suspended players, but there were claims that the players had eaten meat tainted with the drug.
Mexico had opened their Group A campaign with a 5-0 win against El Salvador in front of 80,000 fans at Cowboys Stadium in Arlington, with Costa Rica equalling them with a five-goal demolition of Cuba.
The Cubans were to suffer a very poor tournament with another 5-0 defeat, this time at the hands of Mexico in Charlotte, while Costa Rica saved themselves from a surprise defeat to the Salvadorians with a Randall Brenes equaliser deep into stoppage time for a 1-1 draw that helped the Costa Ricans progress to the Quarter-finals, despite a 4-1 defeat to Mexico in Chicago, as they finished second in the group by two goals ahead of El Salvador, who sent Cuba home with another heavy defeat and a minus 15 goal difference.
Group B started at the Home Depot Centre in Carson with Jamaica hitting their Caribbean rivals Grenada for four, while Honduras and Guatemala shared a goalless draw. The group then moved to Miami and saw Demar Phillips score two for another Jamaican win against Guatemala, while Honduras showed little mercy for Grenada by beating them 7-1, with Clive Murray's goal the only consolation for Grenada.
Guatemala then secured their qualification as one of the two best 3rd place teams with a 4-0 win against Grenada in Harrison, while Honduras finished second on goal difference after losing 1-0 to Jamaica, who topped the group with three wins from three games.
Group C began at Ford Field in Detroit and saw Panama start their Gold Cup with a hard fought 3-2 won over Guadeloupe after having been 3-0 up, but having to hold on at the end, while the USA won the battle of the North American nations, beating Canada 2-0.
In the second group games, played at the Raymond James stadium in Tampa, Canada gave themselves a chance of qualification when they won 1-0 against Guadeloupe, ending the islanders tournament as a result, while Panama caused a surprise when they held off a late comeback from the USA to win 2-1 and secure their own qualification for the Quarter-finals.
Canada then close so very close to making it through to the Quarter-finals in Kansas City when Dwayne De Rosario scored a penalty on the hour and they held on against Panama until deep into stoppage time, only for Luis Tejada to score an equaliser that won the group for Panama and left Canada hoping for the USA to slip up against Guadeloupe. It wasn't to be for the Canadians, sadly, as an early Jose Altidore proved enough for the USA to win 1-0 and finish second in the group and sent Canada home as the lowest ranked 3rd place team.
The first two Quarter-finals took place at the New Meadowlands Stadium in East Rutherford. The first game saw a repeat of the Copa Centroamericana as Costa Rica took on Honduras. As with that final in Panama, this game was a tight and tense affair which saw Honduras take the lead just after half time through Jerry Bengtson, only for Dennis Marshall to equalise seven minutes later. The game produced no more goals in normal time or extra time, so the game went to a penalty contest that Honduras won 4-2 after misses by Celso Borges and Alvaro Saborio cost Costa Rica the game.
Mexico then took on Guatemala in the next Quarter-final and had to fight back after a Carlos Ruiz goal just five minutes into the game. Guatemala had done a lot of hard work to get to this stage and they had to work hard to keep the Mexicans out as plenty of chances were created.
It couldn't last, however, and Mexico were able to equalise just after the break when Aldo De Nigris equalised and the tournament ended for Guatemala when Javier Hernandez scored the winning goal, with Mexico progressing through 2-1.
At RFK Stadium in Washington the next day, the first Quarter-final brought the hosts up against the Caribbean Champions in a real clash of styles between the colourful Jamaican team and the pragmatic Americans. Ultimately, the more experienced Americans were able to find better opportunities than the Jamaicans and went through 2-0 after goals from Jermaine Jones and Clint Dempsey.
The final Quarter-final was an all-Central American contest which saw El Salvador take the lead with a Zelaya penalty after 78 minutes and they looked to have held on for their first Semi-final place until a Luis Tejada goal that had just crossed the line before a clearance was made.
After Blas Perez for Panama and Luis Anaya for El Salvador were sent off at the end of normal time, the game petered out and drifted to a penalty shootout. Only one player missed, with Dennis Alas missing the first Salvadorian penalty, and Luis Tejeda repeated his goal scoring heroics with the winning penalty for a 5-3 win.
Reliant Stadium in Houston played host to the Semi-finals and saw the natural order restored in CONCACAF football after the earlier surprises. The USA won the first Semi-final against Panama with a Clint Dempsey goal 14 minutes from time proving enough for a 1-0 win, while Mexico needed extra time to beat Honduras after finishing 0-0 after normal time, with De Nigris and Javier Hernandez repeating their goal scoring from the Quarter-finals for a 2-0 Mexican win.
This took the two top teams in CONCACAF football to the Rose Bowl in Pasadena and a crowd of over 93,000 people were in attendance for a game full of thrills, spills and drama.
The Mexicans started well and fashioned two good early chances, but they were left stunned when Michael Bradley flashed in a header from a corner after just eight minutes to put the USA ahead.
The situation appeared to get worse for Mexico as a DeMarcus Beasley through-pass gave Landon Donovan the space to slot home after 23 minutes and, at this point, seem to have almost ended the game as a contest.
However, Mexico were not defending champions for nothing and they got one back when Pablo Barrera volleyed home from a Dos Santos pass, then Andres Guardado pounced on a defensive slip up in the penalty area by Eric Lichaj to equalise on 36 minutes.
The momentum was with Mexico and Barrera fired home a low drive from the edge of the area to put the defending champions ahead for the first time. The Americans tried to battle back, with Clint Dempsey hitting the crossbar, but their challenge faded after Giovani Dos Santos scored a memorable individual goal as he managed to chip into the top corner of the net under pressure from five American defenders to secure Mexico's 6th Gold Cup and their second in succession with a 4-2 win.