Bank of America Stadium, Charlotte, North Carolina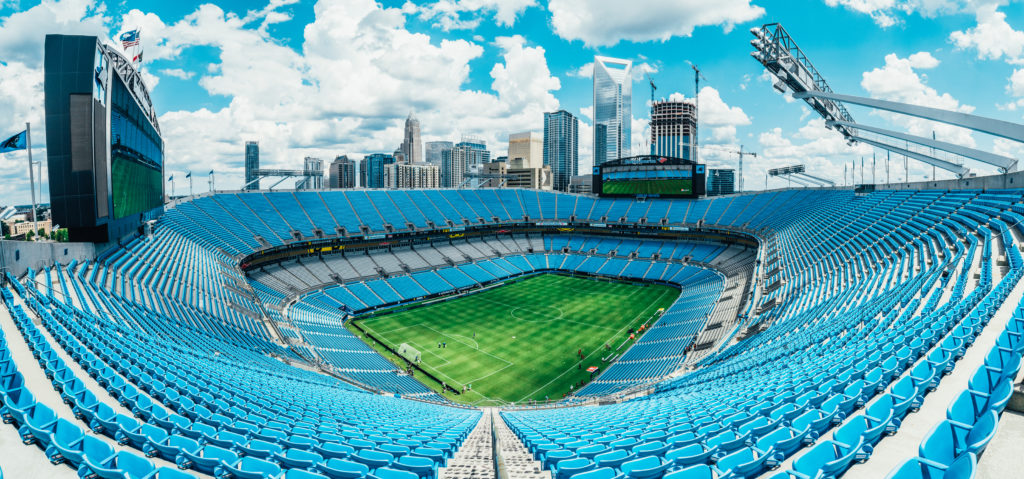 The 75,523-seat Bank of America Stadium in Charlotte, North Carolina (also sometimes known as the Carolinas stadium) is the home of NFL team the Carolina Partners. Opened in 1996, the stadium was known as the Eriksson Stadium before Bank of America took over the naming rights in 2006.
Bank of America Stadium has many unique external features. Aspects of the stadium's architecture, such as the three huge main entrances, incorporate the team's colors of black, process blue and silver. Arches that connect column supports on the upper deck resemble the shape of half a football, while several acres of numerous trees and landscaping surround the building.
The Panthers proposed a $250 million stadium renovation project in early 2013. This plan included two sets of new scoreboards, multiple escalators, infrastructure and concourse improvements, among others. In April 2013 the Charlotte city council agreed to an $87.5 million deal for the renovations.
Bank of America Stadium has been host several soccer matches but generally friendly matches and is a regular venue for the International Champions Cup pre-season tournament featuring many of Europe's top clubs. It did host a round of matches in the 2015 Gold Cup and this Gold Cup will be hosting Group A fixtures Canada vs Cuba and Mexico vs Martinique.
It is a candidate venue for hosting World Cup 2026 matches.