By Paul Nicholson at the Toyota Stadium, Frisco, Texas
June 19 – Costa Rica opened the tournament in style with a 4-0 win over Nicaragua at their home stadium in San Jose, the first time the Gold Cup had been played outside of North America.
With the euphoria of the home hosting and celebrations having died down, it is back to regular Gold Cup business with the second round of Group B games and what on paper should be a straightforward, qualification-securing win over tournament new boys Bermuda.
Costa Rican coach Gustavos Matosas is obviously confident and looking forward to the next rounds, but recognises Bermuda pose a threat. "Bermuda is a team that played very well during the first half against Haiti. Their captain, tall, made the first goal. They scored one but they could have scored two or three. They are a team against which you do have to take many precautions," he said.
For many of Bermuda's players the Gold Cup is a showcase. Not so for the Costa Ricans. "Costa Rica has so many players with class and worldwide recognition that they don't necessarily need this tournament to have clubs after them. I love this team because they are giving it all for their national team," said Matosas.
To imply that the Bermudans aren't would be a huge mistake.
"We are excited to play Costa Rica. They have played in the World Cup and are used to playing in the Gold Cup. In order to improve you have got to play against better teams. This is a long term project for a long term," said head coach Kyle Lightbourne (pictured below with Nakhi Wells).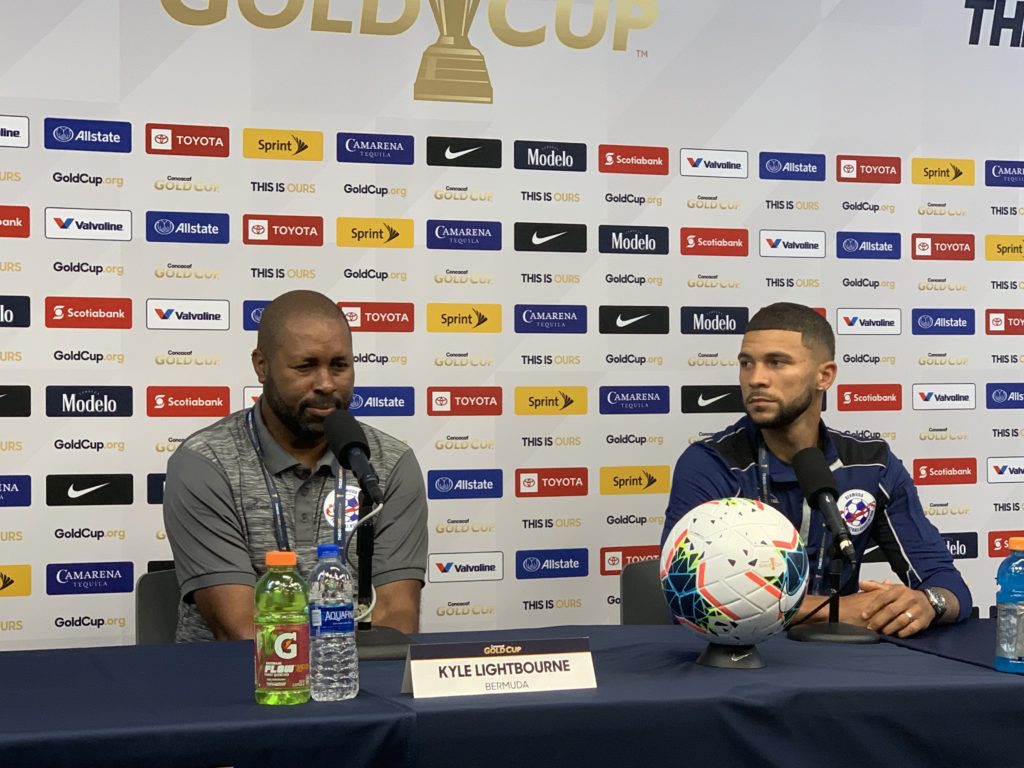 "We want to be brave, we want to play, to force the style of play we have been working on."
Bermuda lost their opening game 2-1 to Haiti – not a disgrace but a result that they feel they could have bettered. Star forward Nakhi Wells, who finished the European season on loan to QPR from Premier League Burnley, is Bermuda's senior player and admitted disappointment coming out of the Haiti game. "We had some great chances, some good opportunities we didn't take. I squandered a good chance. The next chance I get I will be looking to score… I have the potential to possibly be the difference on the day. I have to use that."
Don't expect Bermuda to play the role of underdog. "I watched Mexico against Cuba. They sat back and they lost 7-0. Why sit back and lose when you can attack and win," said Lightbourne.
Haiti vs Bermuda
Haiti opened with a 2-1 win over Bermuda, a win over Nicaragua would guarantee their qualification for the quarter final, for Nicaragua it is a life or death match.
Haiti coach Marc Collat (pictured below left with Wilde-Donald Guerrier) knows Nicaragua pose a very different challenge and does not want to go into the final game needing a win against the group top seeds Costa Rica.
"It is clear Bermuda was always going to be a different game. They have a different way of playing that we are used to seeing in region, they have a lot of England-based players. It is completely different against Nicaragua, a different style of play."
Nicaragua's need to win is obvious but Collat will not want to go into the last game needing a result against Nicaragua to qualify fort eh knockout rounds: "I think that the pressure is shared. We both want to win and qualify and we know that Nicaragua comes not wanting to leave the tournament. We are going to do the best we can to keep moving forward."
It is not just the team that wants to move forward but Haiti's players know the impact that a would have at home. Wilde-Donald Guerrier, who plays his club football in Azerbaijan for Qarabag, is unequivocal about the importance of delivering: "We have a very hard political situation in Haiti right now but the people have been supporting us. If we can do this tomorrow (win) it will bring a lot of good for the country."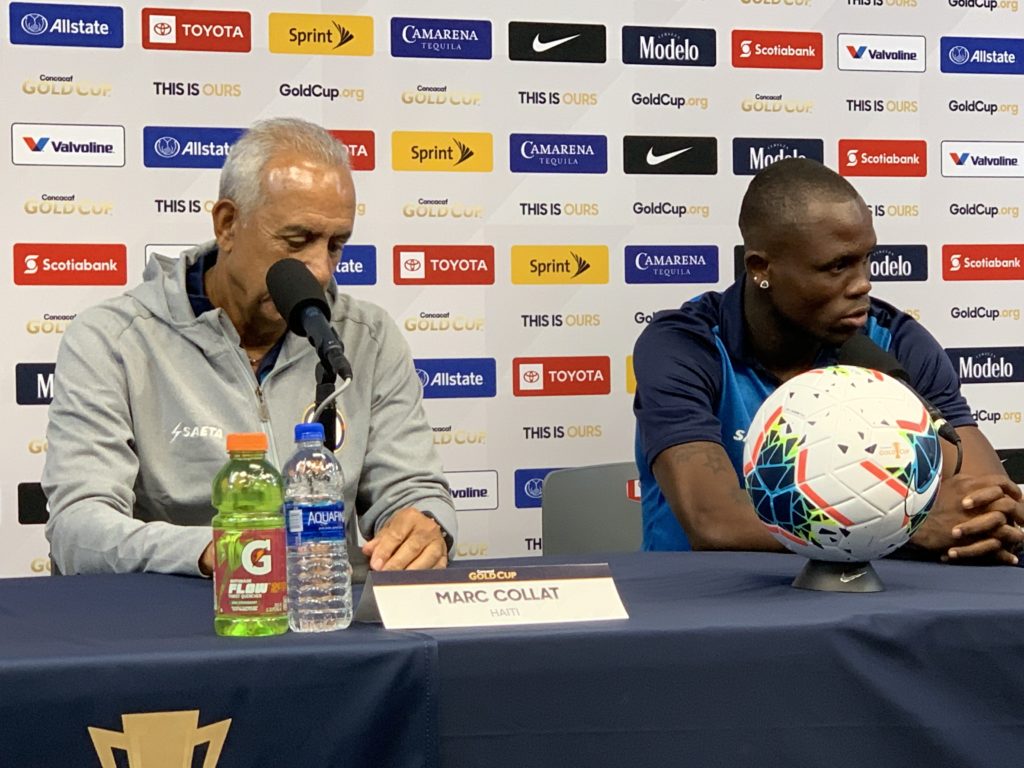 "It's clear that they didn't have their best match (against Costa Rica) and when someone receives four goals it a a little difficult, however we have a lot of respect for the team and we know they'll be coming in with everything," said Collat.
Nicaraguan coach Henry Duarte cut a very relaxed figure at his press conference. "The game against Costa Rica is behind us and we're optimistic about tomorrow's game. We have been working on not repeating mistakes and we have a focused attitude coming in.
"Training is going just like we've planned, tomorrow is when we play to the fullest."
History is not in Nicaragua's favour, having only beaten Haiti once in the previous seven contests between the two countries.
Contact the writer of this story at moc.l1702136968labto1702136968ofdlr1702136968owedi1702136968sni@n1702136968osloh1702136968cin.l1702136968uap1702136968