By Paul Nicholson at the Toyota Stadium in Frisco, Texas
Haiti 2 Nicaragua 0
June 20 – When the water break was taken on 30 minutes the temperature on the pitch of the Toyota Stadium, Frisco, was 97 degrees. The humidity was 51%.
It gets hot in Texas.
Group B had moved from Costa Rica to the US for its second round of matches and Haiti and Nicaragua were battling for qualification to the knock out stages. For Nicaragua it was a life or death group game, for Haiti a win would secure qualification and forgo having to get a result against Costa Rica in the last round.
By the time the cooling break came on 30 minutes the heat had already been turned up on Nicaragua.
Haiti started strongly, they are physically big team, with NY Red Bulls Derrick Etienne enjoying his time in the sun with powerful runs on the left flank.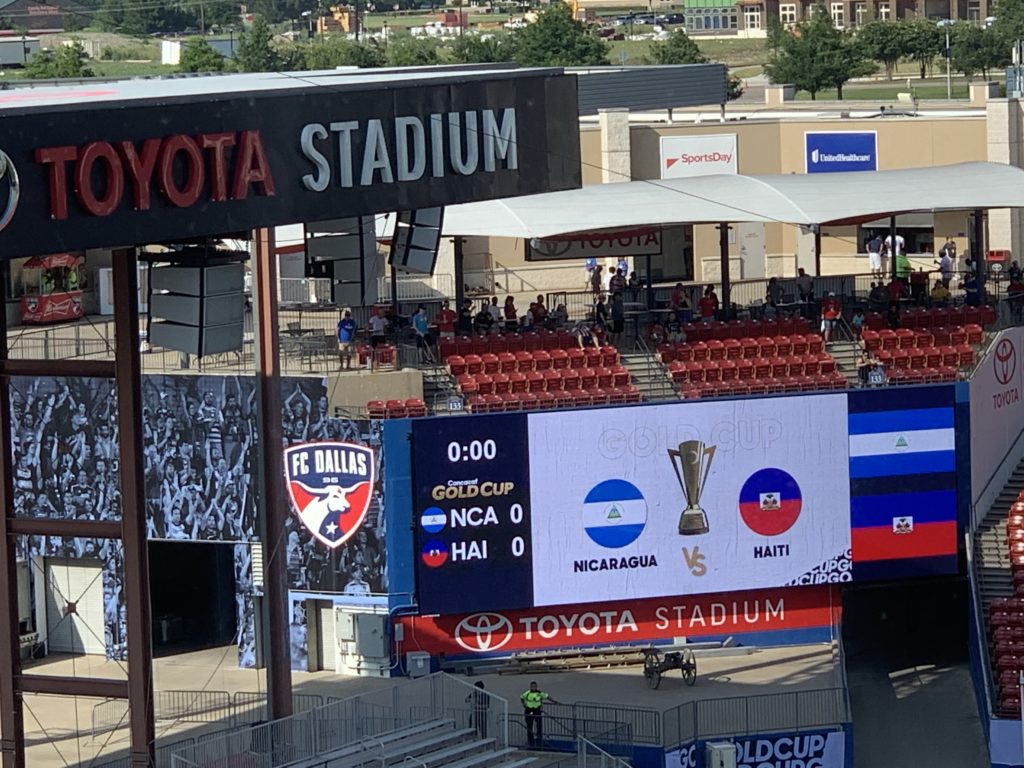 Nicaragua in contrast preferred to let the ball do the work but frequently ran against the solid wall of Haitian defenders and the excellent Zachary Herivauz patrolling menacingly in front of the them.
Nicaragua's best chance came from Byron Bonilla who had a snap shot on the turn easily save by Jhony Placide, but apart from that Nicaragua could rarely get the ball close enough to the Haitian goal to pose a real threat.
On 19 minutes the ever present Duckens Nazon in Haiti's attack – likely yearning for the more temperate climes of his club St Mirren in Scotland – was brought down outside the box. Qarabagh's Wilde-donald Guerrier stepped up to fire the ball into the wall.
Undeterred, Nazon was now well warmed to his task and a minute later took the ball across the top of the Nicaragua box to feed Steeven Saaba in space who shot first time from 20 metres. A neatly taken goal.
Haiti doubled their lead two minutes after the water break. Derrick Etienne, with room to move in the box, hit a shot that was cruelly deflected off Manuel Rosas into the Nicaraguan goal with keeper Henry Maradiaga diving the wrong way.
Half time: Haiti 2 Nicaragua 0
Nazon, clearly now revelling in the heat, continued to bully the Nicaraguan defence, ably assisted by Frantzdy Pierrot. At the other end Haiti's defenders were similarly authoritative, happy to sit in and let the Nicaraguans come to them, exploding into tackles when needed – Guerrier picking up a card in the process.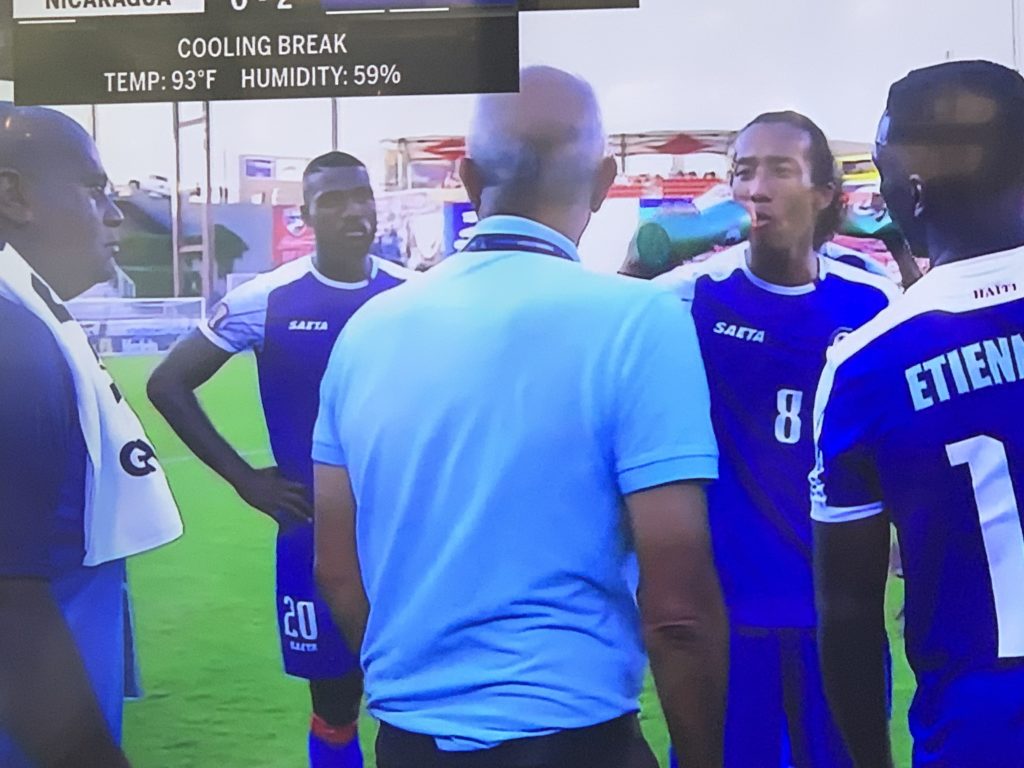 Nicaragua had shooting opportunities with four free kicks, all hit wide or tamely into Placide before the water break on 75 minutes. Temperature had cooled to a positively wintry 93 degrees with humidity at 59%.
By the end of the game a shadow had crept over the pitch and over Nicaragua's Gold Cup campaign.
Next stop for both teams is Newark and the Red Bull Stadium where Nicaragua play for pride against Bermuda, while Haiti face Costa Rica.
Contact the writer of this story at moc.l1702137702labto1702137702ofdlr1702137702owedi1702137702sni@n1702137702osloh1702137702cin.l1702137702uap1702137702