By Paul Nicholson at the NRG Stadium in Houston
Canada 2 Haiti 3
June 29 – Canada snatched defeat from the jaws of victory letting a two-goal half-time lead become a 3-2 full time loss to Haiti in the first of the Gold Cup quarter finals at the NRG Stadium in Houston.
It was a remarkable second half comeback by Haiti who now move on to Phoenix for their first ever Gold Cup semi-final. It was their third and most impressive victory this Gold Cup that has each time seen them come from being goals down to win.
Canada will be wondering what happened in a second half that saw their passing game blunted and their physical challenge steamrollered by the directness and total commitment of the Haitian second half.
Canada had a foretaste of what was to come in the first 15 minutes. A tense and sometimes aerially physical opening 15 minutes saw the Canadians defending deeply against Haiti's 3-4-1-2 formation as the game was repeatedly interrupted to patch players up. Haiti's first real chance came in the 9th minute when a Haiti corner taken by Herve Bazile was only just palmed away by Milan Borjan.
On 15 minutes Haiti had their first shot on goal. Bazile, drifted in from the right with the ball at his feet and curled his shot just wide of Borjan's right post.
If the play was with the Haitians, the first half force soon proved to be with the Canadians who on 17 minutes scored a goal against the run of play.
A free kick to Canada on the right was played along the ground past Haiti's still forming two-man wall to a forward running Jonathan David. With a clear route to goal he smashed the ball past Haiti keeper Jhony Placide. It was an awful lapse of concentration by the Haitians.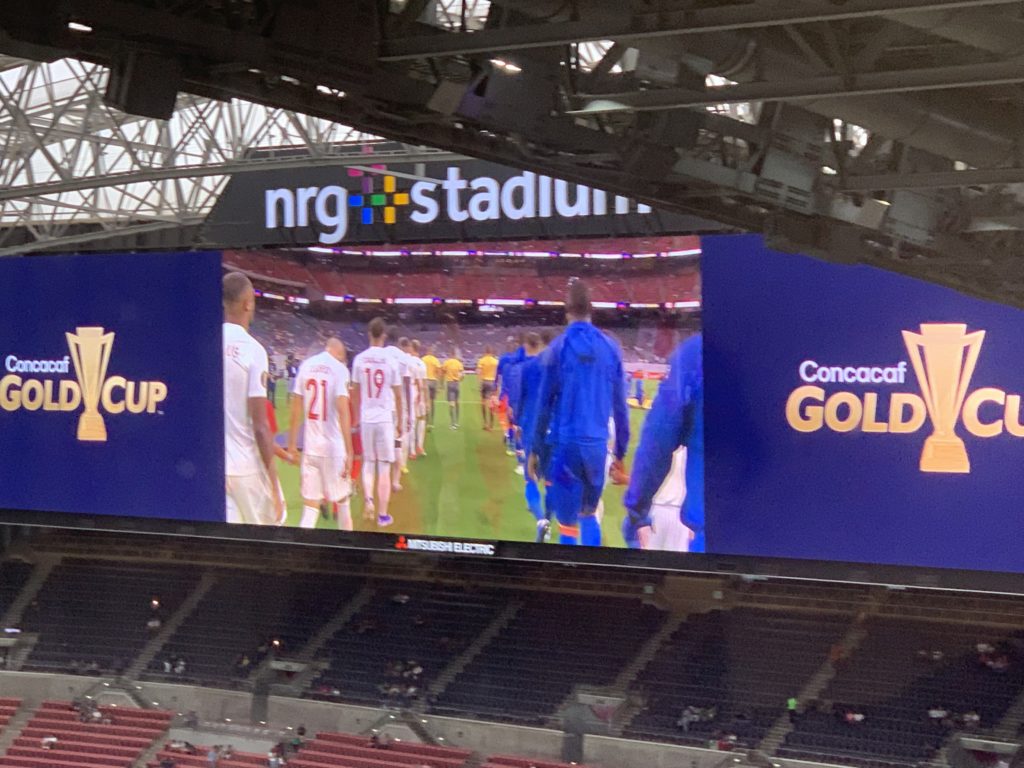 David moved to six tournament goals, extending his lead as the Gold Cup's top scorer.
The Haitian response was as frantic as it was panicked. Frequently going too long, they put pressure on their own outnumbered defense as Canada countered and played their possession game.
On 23 minutes a Canadian free kick 5m outside the box and centre of the goal saw Alphonse Davies, playing as an attacking left back this match, hit the right hand corner of the bar.
Suddenly Canada were in the game, dominating the ball and overrunning Haiti's three-man backline every time they came forward. Shots from Scott Arfield and Junior Holliet were blocked and pushed away for a corner as Haiti's defensive shape unravelled.
On 28 minutes Canada had a second. With Haiti again losing the ball too easily going forward the ball came to Arfield who threaded the ball left to Holliet who had beaten the offside trap and only had to tap in past Placide.
What had started so brightly for Haiti was in danger of turning into a disaster. Slowly they worked themselves back into the game. On 37 minutes a ball across the box was met in the middle by Guerrier who volleyed into Borjkan's body. On 40 minutes Bazil dragged a free kick past Borjan's left post. Haiti had regrouped but Canada's possession had driven them to what looked like a match winning lead.
Half time: Canada 2 Haiti 0
Haiti started the second half with similar purpose to the first but more urgency on front of goal.
On 49 minutes they were rewarded. An underweighted backpass by Hearts defender Marcus Godinho saw St Mirren's Duckens Nazon sweep in on a muddled Borjan to win the ball and tap into an empty net.
It went from bad to worse for Canada. On 67 minutes Bazile was brought down in the box by Godinho who looked to have been forsaken by the lord this evening. Up stepped Bazile to hammer the ball to Borjan's right to level the scores.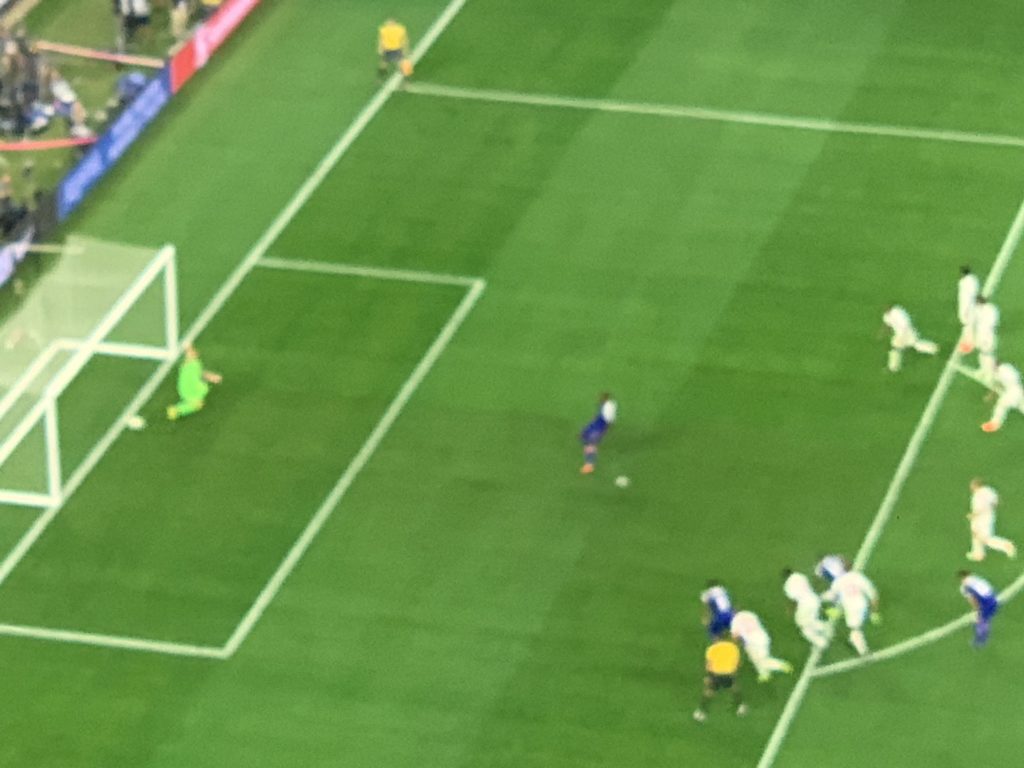 Now it was Canada's turn to work their way back into the game with their passing game pushing them higher up the pitch. That left them open at the back and on 75 minutes Nazon, finding space on the left, squeezed the ball through Canada's flat footed central defenders to an incoming and always threatening Guerrier whose first touch took him past a flailing Borjan and his second push the ball in for Haiti's third. The Canadians seemingly had no answer to the Haitian physicality in the key goal areas.
Canada piled on the pressure and on 83 minutes thought they had equalised. A free kick 40m out in front of goal was chipped in to Atiba Hutchinson who turned and shot past Placide. The assistant referee flagged and off-side was given. There is no VAR here but marginal as the call was, it was the correct one.
Canada threw everything they had at the Haitian goal but it was too little too late.
Canadian coach John Herdman said: "It was disappointing in the second half to put it mildly. We gave them an avenue back into the game. In the end we didn't have what it takes. They were very direct and it was very difficult for us."
Acknowledging that Haiti were more battle hardened and had had the benefit of a Nations League campaign to prepare, he said: "This was a great opportunity for our country and we missed it. The players are committed to take our country forward and are devastated. We have got to learn how to adapt to that style and physicality."
Haiti coach Marc Collat said there was no big speech at half time to motivate his team: "We looked at the fact we had given away goals that could have been avoided and that despite the Canadian dominance we had opportunities, that we can create chances and we can come back."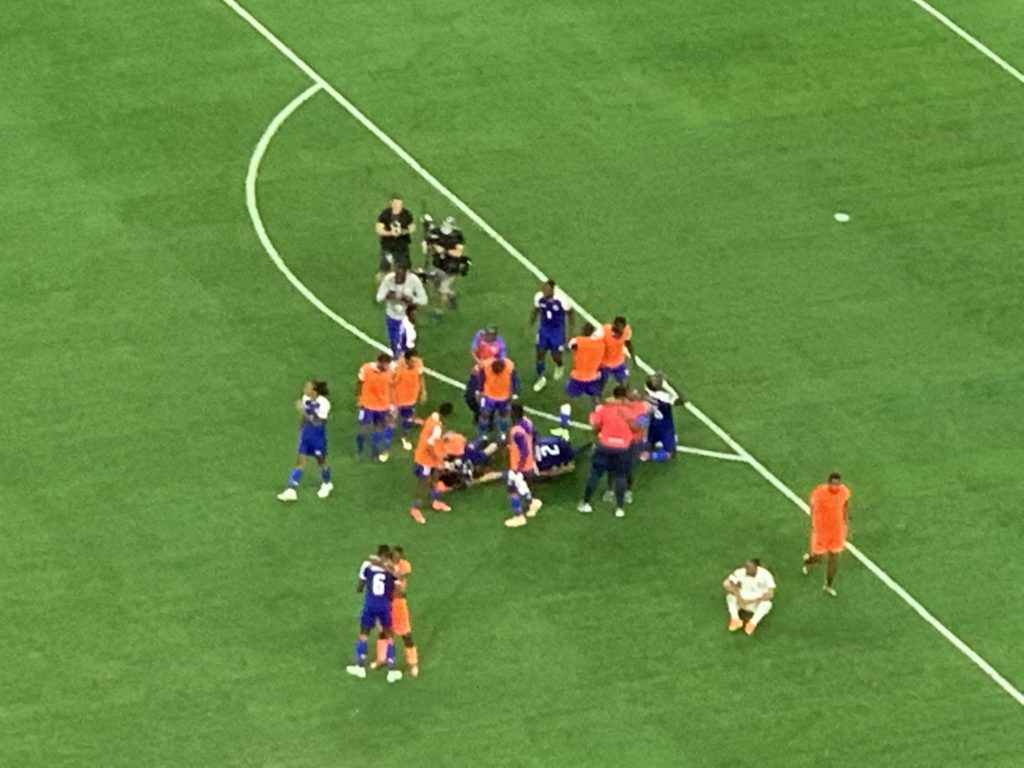 "My players know that as long as the match is going they have to fight on the fierld for themselves, the team, the group and the country…What made the difference is our will to win. The Canadian coach was wondering how we beat Costa Rica. Now he knows how."
Contact the writer of this story at moc.l1695435679labto1695435679ofdlr1695435679owedi1695435679sni@n1695435679osloh1695435679cin.l1695435679uap1695435679