Mexico 1 (5) Costa Rica 1 (4)
By Paul Nicholson at the NRG Stadium, Houston
June 29 – Earlier in the day thunder and lightening swept across Houston. It was nothing compared to the explosion of football that was to take place in the evening at the NRG Stadium.
Seldom could a double header of Gold Cup football ignited such passion, and exposed such raw emotion. The opening game saw Haiti come back from being two down at half time to win 3-2, shattering Canadian dreams.
This was followed by the pulsating end-to-end excitement of Mexico vs Costa Rica in front of a 70,788, mainly Mexican supporting, crowd.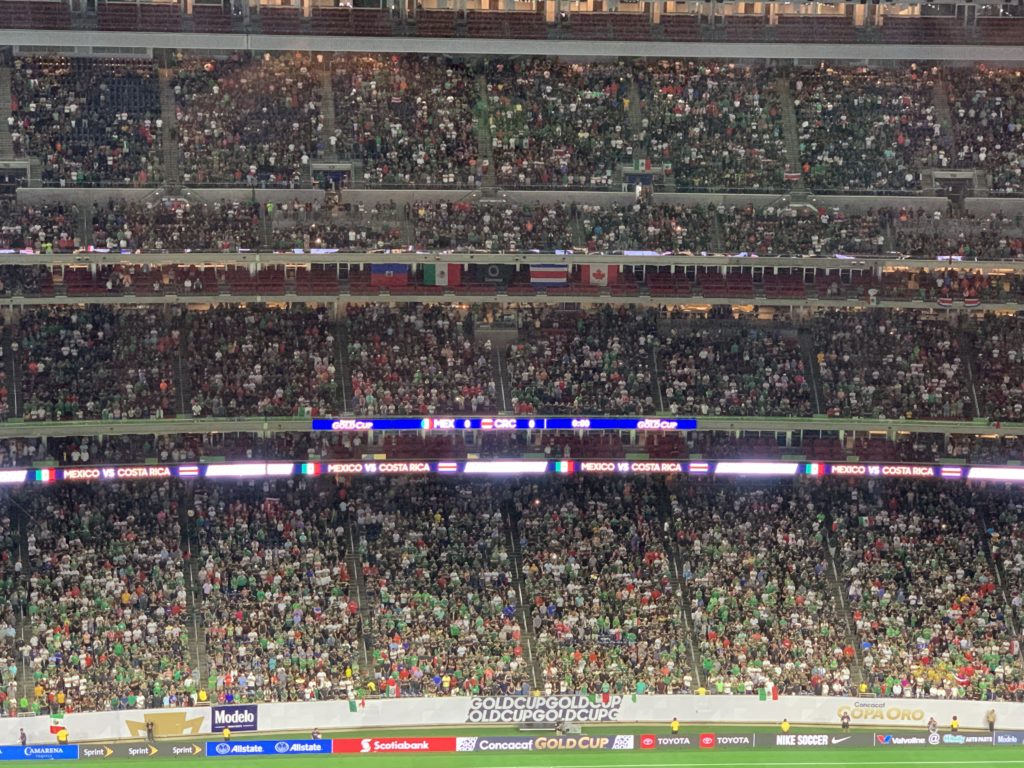 Billed as just another stepping stone for the Mexican march to the final in Chicago, it turned into a Gold Cup classic that was only settled after Mexican keeper Guillermo Ochoa saved the 12th penalty of the shoot out.
Before tonight theses had met three times in the quarter finals with Mexico winning the last two in extra time. They had to had to go a stage further to get the win this time
Facing the mainly Mexican press the day before, Costa Rican coach Gustavo Matosas warned that his team are still adapting to a new style of play. The underlying message being that they should perhaps be a bit more respectful of what his team could do.
Mexico have found a new width to their game under Gerardo Martino, while Costa Rica have added a more central threat in front of goal, happy to play through the middle at every opportunity. Allied to an uncompromising defensive steel in the rumours of their demise are over-exaggerated.
The opening exchanges saw Mexico flow down both wings, pressuring high in the Costa Rican half forcing them to concede possession. Mexico's goalscoring starlet Uriel Antuna looked a threat when he pulled wide right while Jesus Gallardo joining the attack from left full back looked particularly dangerous on 15 minutes, beating players at pace in the Costa Rican box only to miss his shot.
Costa Rica were doing the chasing but started to work themselves into the game with a mix of crunching tackles and better use of possession. On 23 minutes Bryan Ruiz, still the class act in the Costa Rican line-up, showed he can mix quality with steel, picking up a yellow card for an unforgiving challenge. This was not going to be a day for the feint hearted.
On 27 minutes, after a series of Costa Rican forays into the Mexican half, Costa Rica had their first real opportunity with a free kick given for handball 4m outside the Mexican box. As tempers on both sides frayed, Celso Borges stepped up to miss the top left hand corner of the goal by an inch.
Mexican were on notice that they were in a fight. On 37 minutes Mayron George's low cross from the left failed to find an incoming runner. Pushed back from the other side it found Borges who this time hammered his shot into the right post.
Always a threat on the counter, Mexico's Gallardo took the attack to Costa Rica and had a shot blocked on 43 minutes. On 44 minutes Mexico had the lead. The ball found Raul Jimenez 5m from goal who turned and fired past Leonel Moreira.
It had been a breathless half of end-to-end play.
Half time Mexico 1 Costa Rica 0
Mexico opened the second half with Antuna again marauding down the right but again missing his shot.
But this was not to be another Mexican romp to a stylish victory. On the 50th minute Costa Rica struck. Joel Campbell pressuring a bouncing ball between Mexico's centrebacks broke between them with a free run at goal, only to be clipped by Luis Rodrguez's last second despairing tackle.
The referee pointed to the spot, Mexico protested and Ruiz calmly stepped up to place the ball to Guillermo Ochoa's right in the Mexican goal.
Mexico responded with fire. On 54 minutes a Mexican free kick saw Moreira flatten Jimenez. Appeals for a penalty were turned down. Two minutes later Jimenez had a shot well saved for a corner by Moreira. Two more corners followed but Mexico failed to take advantage.
On 60 minutes Jimenez arriving in the box to receive a cross on the ground dragged his shot across the face of the goal. On 63 minutes Andres Guardado scuffed his shot from outside the box wide. Costa Rica's keeper went down with a mystery ailment and everyone took a breath.
In previous group games Costa Rica had looked leg-heavy after the hour mark, certainly they were now being pushed back into their defensive lines and were committing fewer men on the counter attack.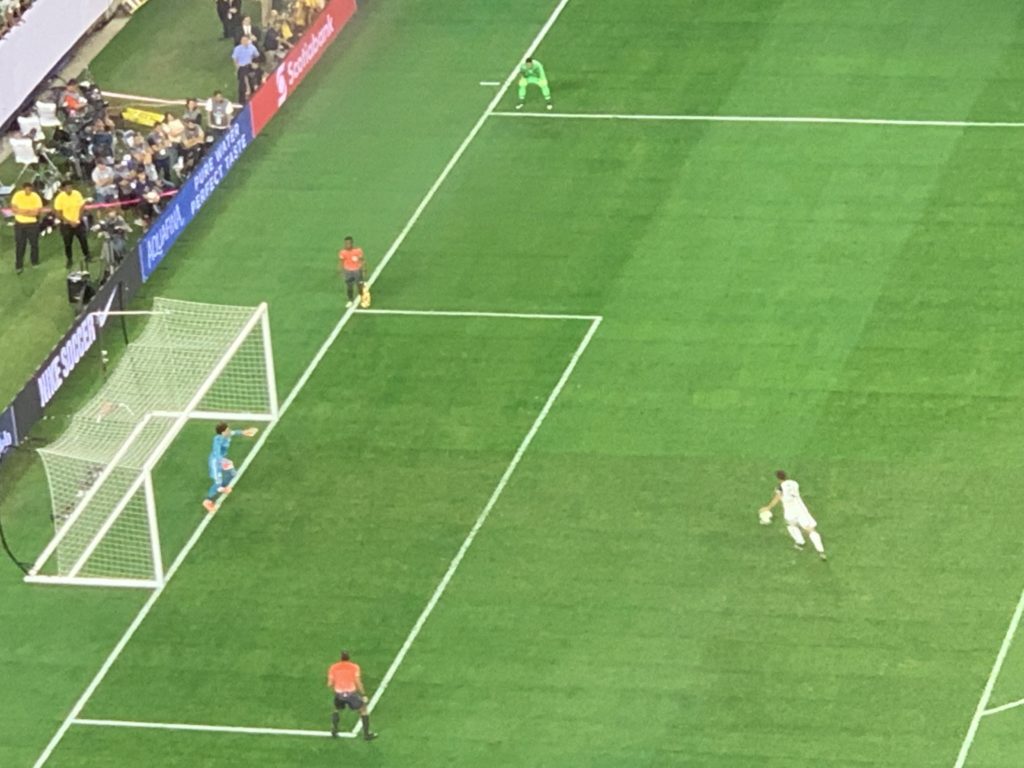 On 66 minutes Jimenez was brought down by Oscar Duarte 5m outside the Costa Rican box. The free kick was hit into the wall by Jonathon Dos Santos. The hurly burly was now confined mainly to Mexico's final third, while Costa Rica were happy to give fouls away outside the danger area, much to the annoyance of Mexico's baying fans who made up the bulk of the 70,788 crowd.
On 86 minutes Mexico almost had it won. A brilliant close interchange between Gallardo and Dos Santos saw the ball come to Carlos Rodriguez, just on as a sub, who hit the bar. A Costa Rican flurry in the final minutes came to nothing and for the third time in a Gold Cup quarter final between these two countries extra time was needed.
Full time Mexico 1 Costa Rica 1
It began with more of the same with Mexico pressuring and Costa Rica defending. The Mexican chances were starting to mount. First Rodolfo Pizarro shot over from 6m, then Carlos Rodriguez fired into the body of Moreira. Costa Rica were reliant on the counter attacking runs from their own half of Joel Campbell.
On 104 minutes, Roberto Alvarado was brought down on the edge of the Costa Rican box. Luis Montes wasted the opportunity by shooting into the wall.
The second half of extra time saw both sides miss gilt edged opportunities. Penalties were to be the decider.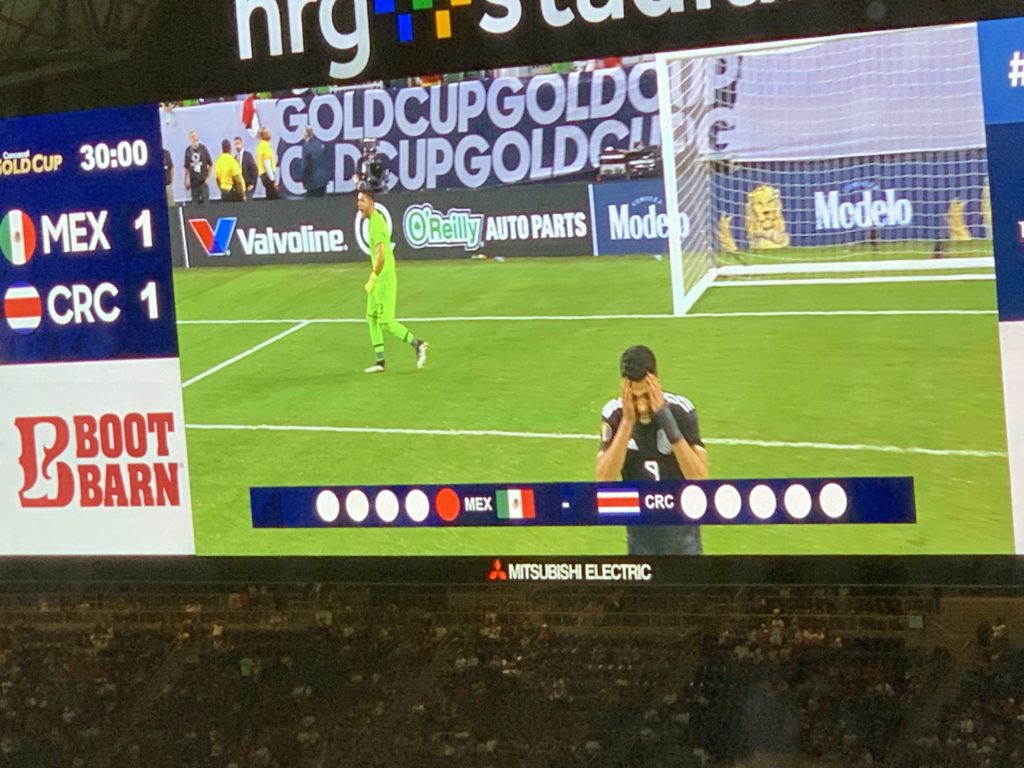 Jimenez missed the first Mexican penalty handing the advantage to Costa Rica which Borges took. But with Randall Leal missing Costa Rica's third penalty and Montes, Alvarado, Gallardo, Hector Moreno and Carlos Salcedo all scoring for Mexico it fell Keysher Fuller to level the scores.
Ochoa saved setting up a semi-final in Phoenix against Haiti on Wednesday.
Contact the writer of this story at moc.l1696201332labto1696201332ofdlr1696201332owedi1696201332sni@n1696201332osloh1696201332cin.l1696201332uap1696201332