By Paul Nicholson at the State Farm Stadium, Phoenix
July 2 – Mexico start the Gold Cup semi-final against Haiti at the State Farm Stadium in Phoenix, Arizona, as nailed on favourites, not just to make it to the final but also to win the competition, and for Mexicans to preferably win against the US at Chicago's already sold out Soldier Field.
But they do have to get over a Haitian side that Mexican coach Gerardo Martino says has been a "revelation". The Haitians will also provide a much more physical test than the Costa Ricans, who Mexico only squeezed past after extra time and penalties.
"All the issues about responsibility and Mexico having to get to the end of the tournament and that there is so much to lose we know about. We never run away from being one of the favourites, it is something we knew in advance," said Martino at his pre-match press conference.
The turnaround from Houston on Saturday to playing again in Phoenix on Tuesday is very short. "With the extra time and then the travel we have tried to make them (the players) recover. What is important is how we play and that we play the game we want to play. If we can control the match their physical advantage will have less of a role. We will try to play with a lot of possession of the ball," said Martino.
"There is the issue of the (Haitian) counter attack and we will be prepared for some moments when they are pressing. We need to counter attack their quick attacks as well."
Haiti are the comeback kings of the Gold Cup, having come from behind three times to win, most notably against Costa Rica in the group stages and stunningly in the quarter final against Canada to score three goals to overhaul a two-goal half time deficit.
"Haiti are very effective. They take advantage of positions," said Martino. "Costa Rica allowed them to get back into the game and they took advantage of that. Canada allowed them to get back in and they took advantage of that. We will have to work for 90 minutes, to be very intense and be very careful… they are a team that can change their skin (formation) and we have to watch out and be ready for what is coming."
Martina is not resting any players for the semi-final and was surprised at the suggestion he might. "No-one will be given a break in the semi-final, no-one is going to stay out but we will try to avoid risks of injury if we have to make a quick change. We have to assess the players but under no circumstances will any player be given a break," he said. If the Mexican press aren't taking Haiti seriously, Martino certainly is.
As to his own team, a decision on whether senior player Andres Guardado will take part will be taken tomorrow. Asked about penalty saving goalkeeper Guillermo Ochoa, he said: "He is very committed about the way the team wants to play – it is something we have perhaps not seen in him before, now we see it in him. There was not much to improve in him as a goalkeeper. Like Andres and Hector (Moreno) he is a leader outside the team and an asset for any group."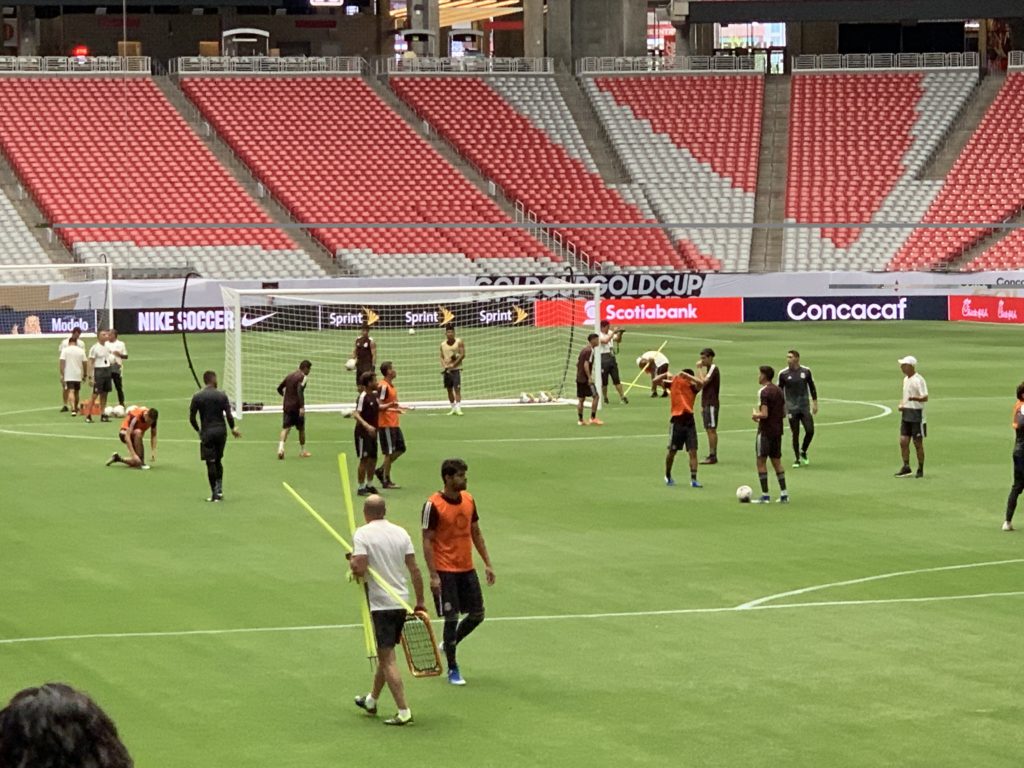 Martino has been in charge of Mexico for six months and he see it still very much as a work in progress. "This is the second time with the players. It is still fresh with the team and a lot can be done better. I am happy with the way things are going now but there is a lot to improve – things have to be done on time and things to improve but my thinking has not changed," he said.
After the Costa Rica Martino bemoaned the lack of VAR. His postioned hasn't changed since Saturday but his attitude has softened, particularly in light of the delays it is causing at the Copa America. "It is difficult to think VAR is not here. Everyone uses the tool and we see it in most international competitions. The US was the first to test the technology and we have tested it in Mexico. I have no reasons to not to believe the reasons it is not here (essentially not enough fully trained officials).
"If you look at VAR at the Copa America it is tedious having to take time to wait for the decision. But it does diminish the rate of mistakes. Perhaps on another day the decisions (in the quarter final against Costa Rica) something else would have been done."
Martino picked up a second yellow card in the game against Costa Rica and so will not be on the bench for the semi-final. "I feel bad that I will not be on the bench but it is not a reason to stop the players," he said.
He might not be pitchside but with ticket sales high there will likely be more than 60,000 Mexican supporters in the stadium lending their own cacophonous voice. "The fans are important when Mexico play in the US. We feel we are at home, we are locals. I believe the behaviour of the fans against Costa Rica was a huge support for us."
Contact the writer of this story at moc.l1695937569labto1695937569ofdlr1695937569owedi1695937569sni@n1695937569osloh1695937569cin.l1695937569uap1695937569