Mexico 1 Haiti 0 (aet)
By Paul Nicholson at the State Farm Stadium, Phoenix
July 3 – Mexico made hard work of a semi-final win over comeback specialists Haiti to book their place in the Gold Cup final in Chicago July 7. Once again they needed extra time and a penalty – but not a penalty shoot out – to secure their progress.
At 7pm it was 105° outside the State Farm Stadium in Phoenix, Arizona. Earlier in the day it had notched 110° as 61,113 mainly Mexican fans had started rolling into the hotels, malls and public areas around the stadium.
Haiti had brought joy to a nation and won the respect of a confederation and football fans worldwide with their stunning comeback performances, especially in the quarter final against Canada.
Tonight the joy was to be all Mexican though Haiti again won prizes for what coach Marc Collat calls "determination" as an essentially rearguard performance kept Mexico out until Raul Jimenez's extra time penalty. Even then Haiti almost dragged themselves back into the game with a shot that cannoned off the bar in the final minutes.
Haiti opened the match with a Frantzdy Pierrot shot inside the first minute that flew over the top left of the Mexican goal. It proved to be their best chance of the half.
On 6 minutes the Mexican wave began its first ripple around the indoor stadium as the endless ripples of Mexican midfielders and forwards rolled against the rock of Haiti's two immovable banks of four who clung like limpets to any Mexican movement around them.
On 8 minutes a foul on the top right edge of the Haiti box saw the ball crossed only to came back to Roberto Alvarado who fired wide to the left. It was to be the pattern of the half.
Haiti were struggling to gain any meaningful possession as they were forced by Mexico to defend inside their box. On 15 minutes Bryan Alceus picked up a yellow card for a crunching tackle on Andres Guardado, typifying Haiti's defensive approach.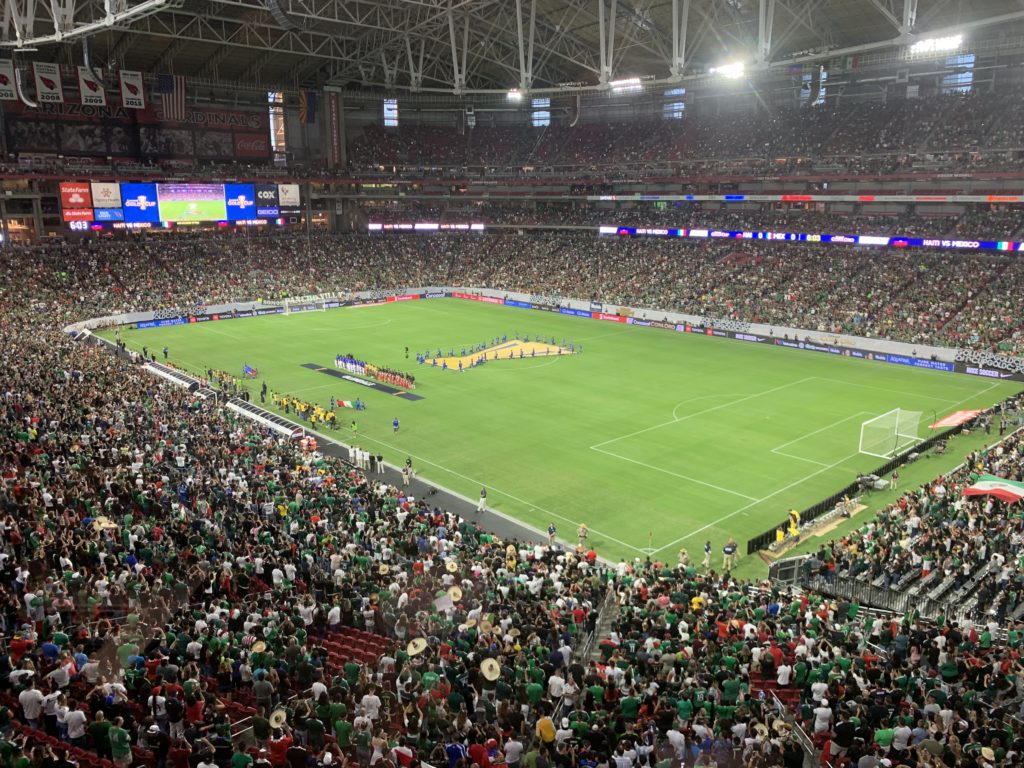 On 18 minutes Andres Guardado, Mexico's captain and a doubt before the game, hit his first shot from outside the box deflected for a corner. A flurry of activity saw Mexican shots hitting walls of Haitian bodies inside the 5 yard box, but the ball always broke for the Haitians.
As eye catching as the fluidity if the Mexican movement down both flanks was, there was a kind of ugly beauty in the Haitian blue that blunted every shot, cross, dribble and pass across the box that came its way.
On 31 minutes with a picture of Mexican coach Gerardo Martino flashed up on the big screen (he was on a ptichside ban for two yellow cards), Jesus Gallardo flashed another shot wide of the right post.
For all the excellence of Rodolfo Pizarro pushing and probing behind, alongside and around Jimenez, Mexico were not getting the ball into clean goal scoring opportunities. But it only takes a second and Pizarro, again dribbling into the box on the right, picked out Jimenez for his first real chance of the game only for the header to be taken easily by Haitian keeper Jhony Placide.
On 38 minutes a rare Haiti incursion saw Carlens Arcus, overlapping from right back to fire into the hands of Guillermo Ochoa. Straight back up the other end Jonathan Dos Santos fired over from the edge of the box. The half ended even.
At the break Mexico had made 417 passes to Haiti's 78, and had 73% of the possession.
Half time Mexico 0 Haiti 0
The second half saw some Haitian shape shifting, committing more players going forward and starting to create half chances. Even so the balance was still in Mexico's favour. On 55 minutes Carlos Salcedo shot wide on the right and on 61 miniutes Roberto Alvarado hit left footed into Placide's arms.
Mexico looked to be getting close and on 64 minutes at last a ball made it into Jimenez with his back to goal on the edge of the box. He won the foul and Guardado curled the ball over the wall towards Placide's top left corner and his big left hand that tipped it over for a corner.
That was his Guardado's last contribution as Mexico reorganised to get a third striker alongside Pizzaro and Jimenez. Carlos Rodriguez came into the midfield and Uriel Antuna came on for Roberto Alvarado.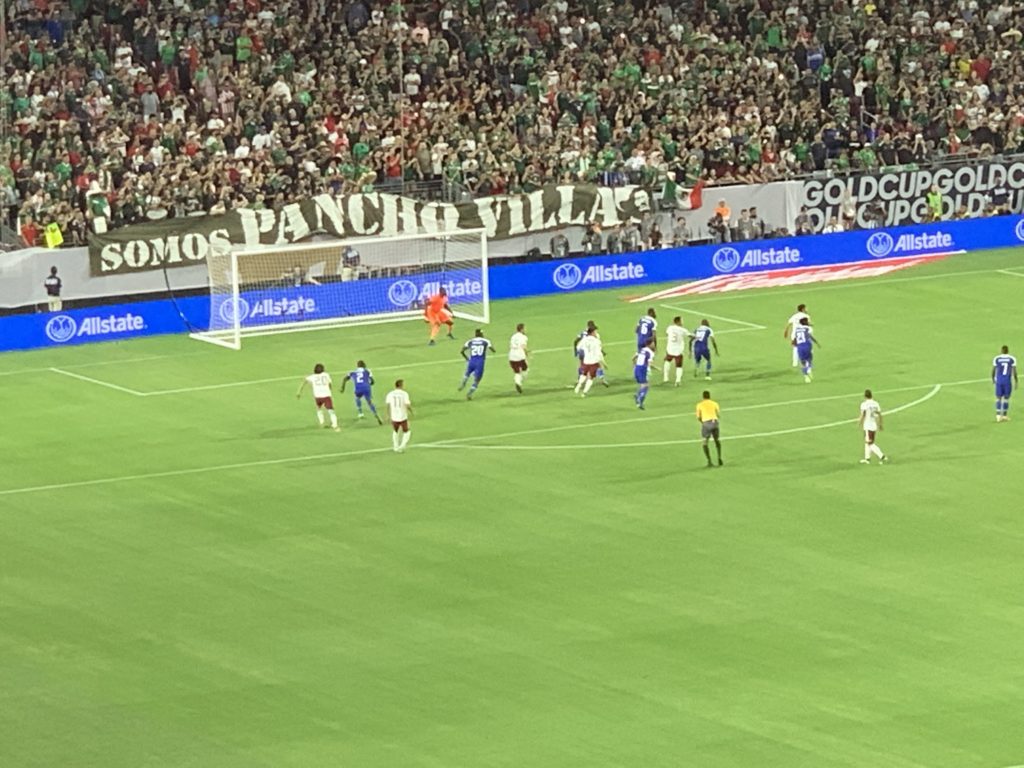 On 74 minutes Antuna could have broken the deadlock. A ball over top found him clear on goal but his heavy first touch pushed the ball into Placide with it cannoning back off Antuna and over. It was a good opportunity painfully missed.
The half moved inexorably towards extra time with Haitian defenders getting to the ball first every time Mexican build up play got inside their box. Haiti were also starting to look more dangerous on the counter-attack despite Derrick Etienne's two comedy moments, when charging forward with the ball at his feet he slipped with the ball flying towards the Mexican end but not the goal.
Full time: Mexico 0 Haiti 0
Mexico had opened the Gold Cup with a thumping 7-0 demolition of Cuba, followed by three goals against Canada and three more against Martinique. But somewhere between the last group game in Charlotte and quarter final Houston they had lost their goal scoring touch.
Now they were into their second set of extra time in three days.
Their luck was about to change and in the first minute of extra time Mexico had their breakthrough. Jimenez turning to volley a ball on the edge of the box was caught by Wilde-donald Guerrier. Qatari referee Abdulrahman Al-jassim pointed to the penalty spot – there is no VAR at this tournament and he would certainly have gone to that if there had been. His decision could have been different. Jimenez stepped up to poke the ball past a stranded Placide.
On the stroke of the extra half Mexico could have doubled their lead. Gallardo whipped a ball into an on-running Jimenez who shot a foot wide of the post.
He had another opportunity on 109 minutes but fired over from the edge if the box. With Haiti, now committing men forward in search of an equaliser, they left themselves open to a succession of counter attack opportunities that were wasted by Mexico. It was becoming as comical as Etienne's slip at the end of full time.
It wouldn't have been so funny for Mexico on 118 minutes as Haiti once again showed their remarkable stickability. Substitute Mikael Gabriel Cantave, in space on the edge of Mexico's box, curled his shot past Ochoa but on to the bar. It was almost enough but not quite. Mexico now head to Chicago for a final against the US or Jamaica.
In his post match interview Collat said "the players have realised their possibilities, todaynthey were missing a bit of freshness. We have work to do but we have reached a good base." Admirable as their achievements have been this Gold Cup, one hopes that from this 'good base' they can find a more expansive game.
Contact the writer of this story at moc.l1701567103labto1701567103ofdlr1701567103owedi1701567103sni@n1701567103osloh1701567103cin.l1701567103uap1701567103